Teletalk internet setting is essential if you want to use the internet from your smartphone or mobile devices. If you don't do the internet settings properly, you can't use internet data. So, before you use the internet, do the Teletalk Internet settings properly.
How to do Teletalk Internet Settings?
There are two ways to set up internet in teletalk. First one is automatic way and the second one is manual ways. If you are teletalk subscriber of any sim you can use these ways.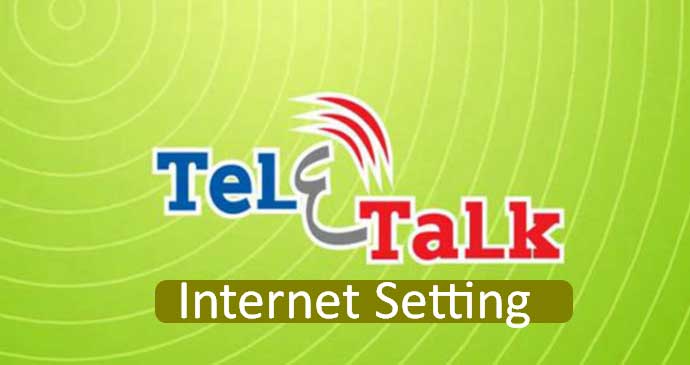 Automatics Teletalk Internet Settings
When you insert the mobile Teletalk Sim, Teletalk will provide you an SMS automatically. You need to save the configuration. By default, the password is 1234. If you have changed the handset, you will also receive the settings file. You just need to overwrite the internet settings. Keep in mind that, without overwriting the internet setting, your internet protocol may not work.
If you don't receive the SMS or accidentally delete the configuration SMS, you can request for the configuration SMS. To get the configuration SMS, you need to send SMS by writing SET to 738 number. On the return SMS, you will get the configuration file.
Manual Settings of Teletalk Internet
Teletalk also provides the manual settings of the internet to a different handset. We have provided the all list of Teletalk Internet setting supported handset configuration.
Check Also: Teletalk Agami internet package
iPhone Internet Settings
       General Network: Cellular data network
       Put APN: WAP
MMS Settings:
APN: MMS
MMSC: http://10.5.4.22:38090/was
MMS proxy: 10.5.4.40:8080
MMS Max. Message Size: 100000
iPad Internet Settings for Teletalk
Settings: Cellular data network
APN Settings: write WAP in APN field
Username and Pass: Blank
Teletalk Internet Settings for Android Device
APN Name: TT-INTERNET
APN: WAP
MMS Settings:
Name: TT-MMS
APN: MMS
MMSC: http://10.5.4.22:38090/was
MMS proxy: 10.5.4.40
MMS port: 8080
APN type: MMS
Window 7.5 and 8 (Nokia Lumia and others)
Put APN: WAP
User name and pass: Blank
This is all about Teletalk internet settings. Right now all Nokia Devices and Android devices support teletalk internet settings. If you still can't do the internet settings, then let us know. You can also call the teletalk customer care number. Customer care attendance will help you to set up the Teletalk internet properly.
Was this article helpful?