Robi Axiata provides different voice bundle offers to its customers. It is known as Robi Minute offers. Robi always values its customer. In the competitive market, it is essential to keep their name and fame. It also helps Robi to attract their customer and keeps the sim active. In this writing, we have covered the All Robi Minutes offer list with their details like activation process, validity and costing. Hope it will help you.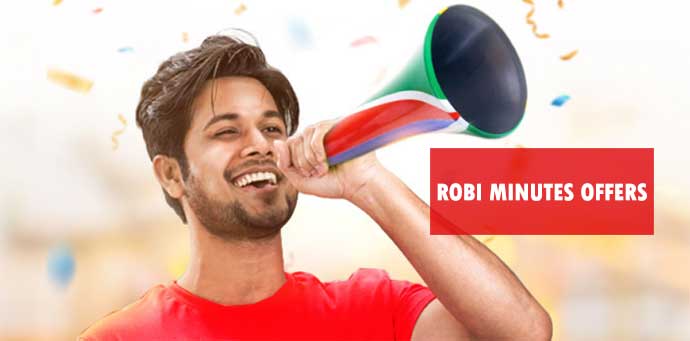 Robi Minutes offers 2023
In the year 2023, Robi brings different exciting minutes offer to their customers. According to the Robi official website and announcements, we have provided the details of Robi Minutes offers for you. We decorated it according to the popularity of the minutes' packs.
Robi offers can be classified into two categories. These are Robi Prepaid Minutes offer and Robi Postpaid minute offers
Robi Prepaid Minute offers
Robi prepaid minute offers is for the Robi prepaid customers. If you are a Robi Prepaid Sim user, you can easily avail of this offer by following the processes. We have added the details of every package.
Robi 4-7 Days Minute offers
If you have a weekly budget for mobile, then you can choose the packages below. Here are some Robi packages have that have 4-7 days validity. This offer is usually low cast. All of the packages are below 100 BDT. So, feel free to choose the minutes bundle offer according to your demand.
Robi 170 Minutes offer
Robi provides 170 minutes to its customer with 99 BDT. This offer provides the highest minutes bundle for 7 days. It will cost 99 BDT. The USSD Code to activate is *0*6#. If you are a tough user, you can choose this pack.
Robi 95 Minutes offer
This minute's offer of Robi is most popular among regular budget users. The price of this pack is 59 BDT including SD, Vat and SC. If you like this minute pack you can buy it by dialling *0*5#. The validity is 7 days.
Robi 70 Minutes offer
If you are a regular mobile user, need to keep some minutes to talk with your friends and family. This offer is perfect for you. In this pack, you will get 70 minutes. To avail of this offer, you have to recharge 43 BDT. The validity is 4 days. These are actually recharged minute offers.
Robi 105 Minutes offer
This offer is also for budget users. In 7 days, it is common to need a customer more than 100 minutes of talk time. Robi understands the demand of their customers. It can be bought by Recharging 64 BDT.
Robi 8-15 Days Minute offers
If you have a budget your mobile for half-monthly. You can choose the minute offers from this section. It is actually for mid-level users.
Robi 205 Minutes
Unfortunately, there is only a minute offer available in this section. A User can buy Robi 205 minutes by dialling *0*8#. It costs 118 BDT. The total validity of 205 minutes of Robi is 10 days.
Robi 16-30 Days Minute offers
Robi has some minute offers for the monthly users. Usually, those who sets the monthly budget at the very beginning of the month, are for them. If you need validity then you can choose the Minute packs of Robi from the link below
Robi 335 Minutes offer
Among all minute bundle packs, this offer is most popular according to the user surveys are done by Robi. Robi provides 335 minutes for 195 BDT. To subscribe to this offer you have to dial *0*7#. In the return SMS, Robi let you know about the successful activation. You have to use this minute's bundle within 30 days of purchasing
Robi 360 Minutes Offer
Robi has announced the exciting 360 minutes offer to their customer. The validity of 360 minutes is 30 days. To get the offer, a Robi user needs to recharge 218 BDT.
Robi Combo Minute Offer
Robi also provides some combo offers to their customers. Here we have provided the shortlist of combo offers. If you like this offer you can easily get the offer. Combo offers belong to the Internet facility, SMS and Minutes altogether.
Robi 5 GB, 500 Minutes & 100 SMS
This offer is actually for cricket lovers. If a customer recharges 599 BDT, he will get the Bangladesh Cricket teams fan T-shirt. Besides this, he will also get 500 Minutes and 5 GB of internet and 100 SMS for 30 days
2 GB (1.5GB+0.5GB 4G), 150 Min & 150 SMS
Want to get minutes and internet data both? This package is for you. By Recharging 251 BDT, A customer will get 1.5 GB of any internet and 0.5 GB 4G internet. This offer includes 150 minutes and 150 SMS. One can activate this offer by dialling *123*251#. The total validity is 30 days.
475 Minutes + 1 GB
This is actually a minutes pack. Robi Company provides exciting facilities with 475 and 1 GB Internet facilities. The validity is 30 days. It will cost 278 BDT. This is actually a recharge minutes offer. To get the offer you have to recharge 278 BDT.
1000 Minutes & 1 GB
Do you need heavy talk time? If the answer is Yes, then this package is for you. In fact, it is the highest talk time combo offer of Robi. With this package, you will get 1000 Minutes of Talktime including 1 GB of internet Data. You need to recharge 574 BDT to get the offer.
How to check Robi Offers 2023 minutes and Data
It is easy to check Robi offers minutes and Data. You need to know two USSD Codes to check. To know about the remaining minute's dial *222*2#. On a flash message, you can know the remaining minutes of your purchased minutes. To check the internet data dial *3#
How to buy Robi Minutes?
There are several ways to buy Robi Minutes offer. You can directly buy from Robi apps or the Robi website. There are some offers that will be activated after recharging. Some of the offers can be bought through USSD Code.
Robi Minutes offer a list 2023
If you are in hurry, then you can this table. Here we have added all the minutes' offer list at a time with their activation system and validity.
| | | | |
| --- | --- | --- | --- |
| Minutes/ Offers | Validity | Cost | Activation |
| 170 Minute | 7 Days | 99 BDT | *0*6# |
| 95 Minutes | 7 Days | 59 BDT | *0*5#. |
| 70 Minutes | 4 Days | 43 BDT | Recharge 43 BDT |
| 105 Minutes | 7 Days | 64 BDT | Recharge 64 BDT |
| 205 Minutes | 10 Days | 118 BDT | *0*8#. |
| 335 Minutes | 30 Days | 195 BDT | *0*7#. |
| 360 Minutes | 30 Days | 218 BDT | Recharge 218 BDT |
| 500 Minute, 5 GB. 100 SMS | 30 Days | 599 BDT | Recharge 599 BDT |
| 2 GB, 150 Minutes, 150 SMS | 30 Days | 251 BDT | *123*251# or Recharge 251 BDT |
| 475 Minutes, 1 GB | 30 Days | 278 BDT | Recharge 278 BDT |
| 1000 Minutes, 1 GB | 30 Days | 574 BDT | Recharge 574 BDT |
This is all about the Robi Minute offer 2023. Here we have tried to best covers all the Robi Minute packages at one place. We can assure you; this guide will help you to get the right choice of latest Robi Minute offers. If any new offer arrives, we will update it here. Thanks for staying with us.
Was this article helpful?