Teletalk Bornomala Internet Packages 2023 has been described here. If you are a Teletalk Bornomal Sim user, you can get these offers. Teletalk Bornomal wants to provide the best solution to the internet for the colleges and university students of Bangladesh. We have covered the details of Teletalk Bornomal Internet Packages here.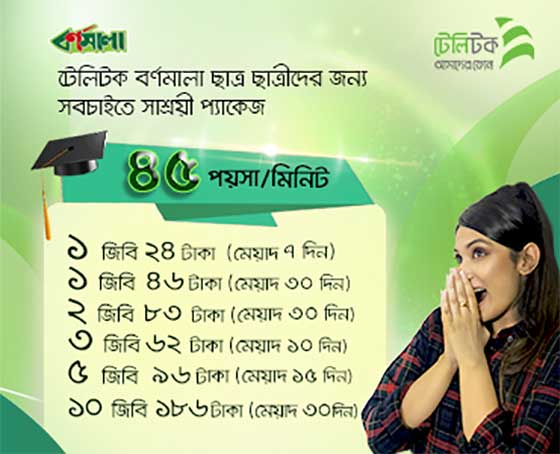 Check Also: Teletalk Internet Settings
Teletalk Bornomala Sim Registration
Teletalk Bornomal Sim is dedicated to the students of colleges and universities in Bangladesh. To get the sim, you have to register for the Bornomal Sim.
Q. Who can apply for the Teletalk Bornomala sim?
A student, who have passed SSC between 2005 to 2023, can apply for the Teletalk Bornomal Sim
Q. How to register for Teletalk Bornomala Sim?
There are two ways of registering for the Teletalk Bornomala Sim. You can register directly from the Teletalk Bornomal Official Website or you can register via Teletalk Mobile SMS.
Q. What is the SMS Registration process?
To Register for Bornomal Teletalk Sim,  write BOR [space] SSC Board(first 3 letters)
| Data | Price | Validity | Code | USSD Activation |
| --- | --- | --- | --- | --- |
| 1 GB | Tk.24 | 7 Days | B1 | *111*611# |
| 1 GB | Tk.46 | 30 Days | B2 | *111*612# |
| 2 GB | Tk.83 | 30 days | B3 | *111*613# |
| 3 GB | Tk.562 | 10 days | B4 | *111*614# |
| 5 GB | Tk.96 | 15 days | B5 | *111*615# |
| 10 GB | Tk.186 | 30 days | B6 | *111*616# |
SSC Roll [Space] SSC Passing Year [space] SSC registration no. [space] Contact No(Any operator)  and send to 16222 from any Teletalk prepaid number.
Teletalk Bornomal Internet Packages
Teletalk Bornomala Users can 6 different types of internet packages. Teletalk Bornomal internet packages are designed for the different classes of users. Teletalk Bornomal Internet offer list is given below.
1 GB for 7 Days
1 GB for 30 Days
2 GB for 30 Days
3 GB for 10 Days
5 GB for 15 Days
10 GB for 30 Days
Below you will get the details of each package. If you are in a hurry, go through the All internet package table at the end of the post.
1 GB at 24 BDT
This is the minimal internet package of the Teletalk Bornomal package. If you are a minimum use of the internet, you can use this data pack. You will get 1024 MB or 1 GB of internet data for 7 days. it will cost you 24 BDT. You can activate this offer by dialing *111*611#
1 GB at 46 BDT
If you are a minimal user, 1 GB internet is enough for a month you can go through this offer. This offer provides you 30 days' validity of data at 4৬ BDT. The activation code is *111*612#.
2 GB at 83 BDT
Like 1 GB internet for 30 days, this offer is also a monthly offer. This means you will get 30 days validity for 2 GB of internet data. To activate it dial *111*613#. It will deduct 83 BDT from your mobile balance.
3 GB at 62 BDT
The price of this package is comparatively lower than the other package. The reason behind this is less validity. 3 GB Data is valid for 10 days. If you want to activate this package dial *111*614#.
5 GB at 96 BDT
Teletalk offers 15 days of data pack to their Bornomal users. One will get 5 GB of internet data at 96 BDT. The activation process is dialing *111*615#
10 GB at 186 BDT
This is the largest volume internet data pack of the Teletalk Bornomala internet package. It will cost 186BDT. The total validity is 30 days from the date of activation. The USSD code is *111*616#
Teltalk Bornomal All Internet Package at once
Here we have provided the all package list in one place. From here you can easily compare the packages and choose the right package for you.
How to activate the Teletalk Bornomala Internet package through SMS?
You have to send the Shortcode of Teletalk Bornomala packages to 111 number. On the return SMS, the package will be activated.
What is the shortcode of Bornomala Internet packages?
The short codes of the packages are given in the bracket. 1 GB for 7 Days [B1], 1 GB for 30 Days [B2], 2 GB for 30 Days [B3], 3 GB for 10 Days [B4], 5 GB for 15 Days [B5], 10 GB for 30 Days[B6].
What is the teletalk Bornomal Official Web site link?
The Teletalk Bornomal Official Website link is http://bornomala.teletalk.com.bd
This is all about the Teletalk Bornomal Internet packages 2023. If you have any questions about this topic, please let us know through comment. We are ready to answer your question.
Was this article helpful?