Teletalk Oporajita Internet Package is given below. Teletalk provides the best internet offers to their Oporajita Sim. If you are Oporajita Sim user, you can avail the following internet offers.
Oporajita Sim is one of the Teletalk sim packages which is clearly provided for the women. In July 2017, the Bangladesh government provides 30 Lakh Sim free to the women. The aim of the Oporajita Sim is to empower the women.
Teletalk Oporajita Internet Package 2020
Teletalk Oporajita provides the best internet packages to their customers. Right now, there are 5 internet packages are available for Teletalk Oporajita Subscriber. These are
1 GB @8 BDT
1 GB @ 18 BDT
2 GB @ 36 BDT
10 GB @149 BDT
1 GB @ 89 BDT
2 GB Combo @ 199 BDT
First two offers are for the new sim of Teletalk Oporajita. Others Data packages are for all. We have provided the details of every package below.
Check Also: Teletalk Bondho Sim offer
Oporajita New Sim offers 2020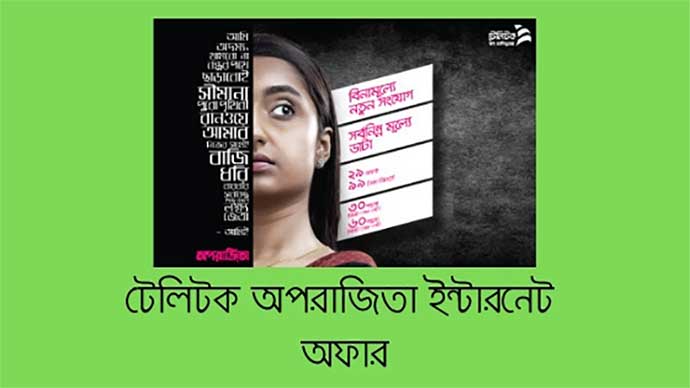 If you are the new subscriber of Teletalk Oporajita Sim, you are welcome to Teletalk Family. A New sim user will get two special offers. These are given below
1 GB at 8 BDT
Teletalk Operajita customer will get 1 GB internet data for 7 days at 8 BDT. To avail this offer you have to recharge the exact 8 BDT. You can get this offer by dialing USSD code too. The USSD code of this offer is *111*8#. The validity of this offer is 7 Days from the day of activation.
1 GB at 19 BDT
This is another new sim offer for the Teletalk Operajita Customers. By recharging 19 BDT one will get 1 GB internet data. A customer can activate this data with USSD code *111*18#. The validity of this offer is 3 days.
Q: How much time I can enjoy the new sim offer?
These new sim offers can be enjoyed up to three months from the day of activation the sim.
2 GB @ 38 BDT
Teletalk Oporajita provides 2 GB internet data at 36 BDT. If you a This 2 GB internet data is valid for the 7 days. To activate the data, you recharge the exact 38 BDT from the Teletalk retail points. You can also dial *111*36# to activate it
10 GB @156 BDT
10 GB Internet data will be given at 149 BDT. If you are a heavy internet user you can enjoy this internet package at low cost. The validity is 15 days from the activation. Dial*111*149# or recharge 156 BDT for the activation of the package.
2 GB Combo @ 199 BDT
This is a combo package. If you need Teletalk Minutes to offer along with internet data and SMS you can choose this package. You will get 250 minutes to any operators, 100 SMS and 2 GB internet for 30 days. Dial *111*199# or recharge 199 BDT to activate this Combo Teletalk Internet package.
All Teletalk Oporajita Internet Offers
| | | | |
| --- | --- | --- | --- |
| Offers | Cost | Validity | Activation |
| 1 GB | 8 BDT | 7 Days | *111*8# |
| 1 GB | 19 BDT | 3 Days | *111*18# |
| 2 GB | 38 BDT | 7 Days | *111*36# |
| 10 GB | 156 BDT | 15 Days | *111*149# |
| 2 GB, 100 SMS, 250 Min | 199 BDT | 30 Days | *111*199# |
Q. How to check Teletalk Internet data balance?
Teletalk provides one-stop services in its USSD Code. Dial *152@ to check everything. Or you can send SMS U to 111.
Q. How can I buy Oporajita Sim??
Only Female can buy Oporajita Sim. If you are female you can buy a sim from any teletalk customer care.
Q. What are the documents required for the purchasing Teletalk Sim?
 National Identity Card, 2 copies of passport size photograph, Customer's Signature & Fingerprint,  Personal Details & Contact information are needed during the time of purchase.
This is all about Teletalk Oporajita Internet Package 2020. If you have any questions regarding Teletalk Oporajita Internet offers please let us know. We will assist you.
Was this article helpful?