Robi Internet offers 2020 list are given below. If you are looking for different internet offers of Robi, then this post is for you. Here we have written in detail of Robi Internet offers 2020. According to the Robi announcement and declaration of the Robi Website, we have added all internet packages here. Keep it in mind that, Robi provides the highest amount of Internet offers to its customers. They also best for the speed of the internets and a high amount of data according to the choice.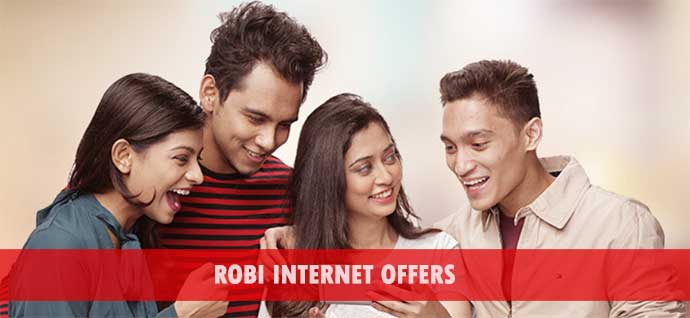 Robi Internet offer 2020
Here we have covered the different internet bundle offers of Robi. If you are a regular internet user you can choose the right offer from below. There are many other offers which are been described as separate points. We have described separately about Robi Social Data offers and Robi Scratch Card offers.
250 MB at 46 BDT
Robi users can enjoy 250 MB internet with 28 days validity with 46 BDT. This offer can be activated by dialing *121*110#. Online Activation is also available on Robi Website.
1 GB at 23 BDT
Robi provides you with freedom of choice. If you are a heavy user then you can choose this internet offer. This offer provides you 1 GB Internet for 3 days. It costs 23 BDT. To avail this offer dial *4# or recharge 23 BDT from the Robi Retailer.
750 MB for 14 days
If you want to enjoy 750 MB for 14 days then this is the best offer. It will cost you 74 Bangladeshi Taka. It is basically a recharge internet offer. To get the offer activated recharge 74 BDT
1 GB at 48 BDT
This offer is not a popular offer. You can avail 1 GB for 3 days with 23 BDT. So why this offer. By the way, if you want to activate this package dial *123*48#. The validity is 4 days from the day of activation.
1 GB 28 Days
Some people can cover 1 GB internet throughout the month. If you need long time validity, then it is for you. 1 GB internet for 28 days. It cost comparatively more than other packages. You can avail of this offer by recharging 128 TK or dialing *123*128#  USSD Code. Online Activation facilities are also available.
1 GB For 3 days
I don't find the differences between 1GB 23 Tk and this package. The validity and total data amount are the same as the above package. Dial *123*41# to activate these packages. It costs 41 BDT
1.1 GB for 7 Days
With 101 BDT, A Robi Customer can buy 1.1 GB Internet Data for 7 Days. It gets this offer dial *123*101#. One can purchase this offer online.
1.5 GB at 209 BDT
1.5 GB data can be bought online or through dialing *123*209#. It will cost 209 BDT. The validity is 30 Days.
4 GB Freedom Internet Pack
This is the freedom pack of Robi Internet. You will get 4 GB Data with carrying forward facilities. The data is valid for 28 days of activation. It cost you 316 BDT from your account. The Robi USSD code for activation is *4#
2 GB Freedom Data
2 GB Freedom data can be bought through dialing *4#.It will cost 54 BDT. Total validity is 54 Taka. The validity is 3 days. If you like this package, you are welcome to activate it.
2 GB for 28 days
If you are a monthly user, you can check this internet offer of Robi. By this package, you will get 2 GB internet data for 28 days. You can avail of this offer in three ways. You can directly activate online, or dial *123*239#.
3 GB Freedom Internet pack
If you are a heavy user of the week, you can use this pack. 3 GB Data is enough for heavy users. You can browse the unlimited website through this pack. 3 GB Internet data will cost 108 BDT for 7 Days. To activate this package dial *4#
4 GB Freedom Internet
Robi tries to understand its customer categories. For the high-mid level user, 4 GB internet data pack are brought by the Robi. At 316 BD, A customer can purchase this data. To activate the data, you need to dial the USSD Code. The USSD Code is *4#. The validity is 28 days
6 GB at 148 BDT
This offer includes 6 GB Internet data with free Robi TV subscription. This package is designed for heavy internet users. 6 GB Data is valid for 7 days. The cost of this package is 148 BDT. The USSD code is *123*148#
7 GB at 399 BDT
Robi offers 7 GB internet for their customers. This offer is divided into 5GB any network Internet and 2 GB 4 G internet. By activating this offer, Free subscription will be given for Robi Apps and RobiTV. It will cost 399 BDT. The validity is 30 days. The Activation code is *123*399#
10 GB Internet Pack
 Robi Customer can avail 10 Gb Internet pack for a month. Out of 10 GB internet, 7 Gb is for any network use and 3 Gb for the 4G network only. It cost 501 BDT to activate. The total validity is 28 days. *123*501# is the code of activation.
10 GB for 7 Days
If you are a super high internet user, you can choose this pack. Here you will get 10 GB internet data for 7 days. It will cost only 199 BDT. Activation can be done by USSD code and Online. The USSD code is *123*0199#
15 GB for 28 Days
This is the highest volume pack of Robi Internet offer. By this pack, A customer will get 15 GB Data with Robi TV and Other Robi online apps subscriptions. It will cost 649 Bangladeshi Taka. Total validity is 28 Days. To avail the offer you need to dial *123*649#
Robi Social Data Offer
Robi Social Data offer is only dedicated to social media users. If you are regularly using different social media like Facebook, WhatsApp and IMO. The following packages are the best options for you. You can choose any packages according to your demand.
100 MB at 10 BDT
This is the lowest social media pack for the customers. By activating this package, A user will get 60 MB data for any website and 40 MB for Facebook and WhatsApp. Dial 123*0010# to activate the offer. The offer will valid for 3 days only
200 MB at 19 BDT
Robi user can enjoy 200 MB for 19 BDT. According to the Robi announcement, in this offer, one can enjoy 100 MB any net Data and 100 MB Facebook and WhatsApp data. You can easily activate it by dialing *123*019#. This data will be valid for 3 days.
350 MB IMO Pack
Like Facebook and Whatsapp, Robi also provides the IMO pack of 350 MB. It costs 20 BDT. It will valid for 28 days from the date of activation. To activate this pack, dial *123*56#
350 MB Facebook & Whatsapp
Robi provides exciting Facebook and WhatsApp packages for the users. With 18 BDT you will get 350 MB Data for Facebook and WhatsApp. For browsing other data, the standard data rate will be applicable. 28 Days validity will be given
800 MB @49 BDT
Like scratch card offer, this offer is also providing the same amount of Data. 600 MB any web page data and 200 MB for FB and IMO. For the activation of this pack, dial *123*049#
1GB Facebook & WhatsApp
If you are a minimal social media user, 1 GB Facebook or WhatsApp Data is enough for you. You will get 1 GB of Facebook and WhatsApp for 30 days. You can activate this package by online or Mobile balances. From Mobile balance, you have to dial *123*0250#. It will cost 18 BDT
1GB IMO Pack
If you used to talk in IMO, then this pack is for you. At 53 BDT you will get 1 GB IMO. The IMO pack can be used only for IMO without proxy. You can buy this pack through *123*056# USSD code or from online directly. The data will valid for 28 days.
15 GB Robi Music and Videos
You can enjoy 15 GB Robi music and videos at 649 BDT. There are two ways to get this package. Firstly, you need to recharge 649 BDT. Secondly, you can dial the USSD Code *123*649#. Before dialing, your account balance should be more than 649 BDT. This offer will valid for 30 days.
Robi Scratch Card Internet offer
Robi scratch cards can be found in any retailer shop of Bangladesh. For users, Robi provides internet scratch cards. By these scratch cards, one will get an internet offer without any types of USSD code or any hassle. To activate the following near, you don't need to do anything special. Just buy a scratch card from any Robi Retailer shop and recharge it.
800 MB at BDT 49
If you want to buy this data pack from scratch card, you need 49 BDT. In this package, you will get 600 MB Data with 200 MB Bonus. Bonus Data can be used on Facebook and IMO. The total validity is 7 days. It is noted that you can't use bonus data using a proxy browser.
200 MB at 19 BDT
This is only a data pack. You need to purchase 19 BDT scratch card from the Robi retailer. By recharging 19 BDT you will get a total of 200 MB. Out of 200 MB, 100 MB for any site browsing and 100 MB for social media Facebook and IMO. No proxy browser can be used for social MB.
200 MB & 20 Minutes at 29 BDT
This bundle pack comes with 200 MB data and 20 minutes Talk time offer. This bundle valid for 7 days. You need to recharge 29 BDT from scratch card. *3# and *222*2# for data balance check and minute check respectively. This offer is not popular among users.
75 MB at 9 BDT
This is the lowest price Scratch card data pack. Collect Robi 9 BDT from your nearest retailer. You will get 50 MB Data and 25 MB Facebook and IMO Bonus. The data will valid for 3 days. Default browser without any proxy should have to use for Facebook and IMO
Was this article helpful?