Gp Minutes offer 2020 has been updated on recently. Grameenphone company has regularly updated the list after a certain period. We always keep eyes on the GP website and different announcement of Grameenphone offers. According to their announcement we have provided all the minute offer list below. You can choose any minute's packages of Grameenphone according to your demand.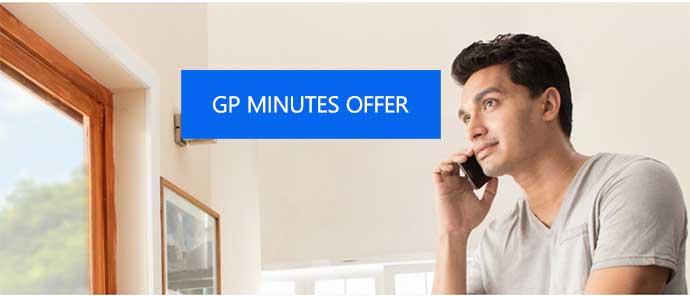 Gp Minute offer list 2020
Grameenphone company provides different voice call facilities to their customers. According to the Grameenphone company website, there are more than 10 types of minutes offer for their customers.  We have collected all the information about Gp Minutes offers.  Choose the right pack of your demand. We recommend you to choose always the highest volumes of offers. High volumes of offer mean low cost to the customers. Below we have mentioned all the offers details.
10 Minutes at 5.80 BDT
Grameenphone mobile operators company cares about all classes of customers. If you are a budget user, then you can choose this pack for a short time. This is the lowest price minutes offer of Grameenphone. You will get 10 minutes to call at 5.80 BDT. To activate this package, you need to dial the USSD code *121*4024#. The validity is six hours from the time of purchasing this pack. It is actually for the one-time users.
24 Minutes at 14 BDT
If you think that, the previous pack is not enough for you. You want more, then this pack can fulfill your demand.  In this pack, you will get 24 Minutes with the costing of 14 BDT. The validity is more than the previous one. A total of 16 hours' time period will be provided to use this pack. Dial *121*4001# to activate the packages.
40 Minutes at 24 BDT
This is the third-lowest package of Grameenphone bundle minutes offer. Those who are moderate users, this pack is the perfect one for them. With the amount of 24 Taka, you will get 40 minutes. The activation process is quite easy. Just dial the USSD code *121*1*2#. This pack will be activated. You will get 24 hours of validity from the purchasing time.
75 Minutes at 44 BDT
Heavy mobile users can choose this pack. Daily 75 minutes is enough for corporate life. If you want to buy this pack you need to dial *121*4003#. You will get 4 days validity period to use this talk time. Keep in mind that, you need a mobile balance 44 BD to activate this package.
90 Minutes at 53 BDT
This package comes with an SMS Bundle. A Gp customer will get 90 minutes with 50 Short Messages at 53 BDT. This talk time can be used to all numbers. SMS can be sent to any local numbers. To activate this package, you need to dial *121*4004#. The validity is 7 days.
130 Minutes at 78 BDT
Are you looking for the weekly minute pack of GP? If you are an average user, then I recommend buying 130 minutes at 78 BDT. On this GP Minute Pack, you will get 7 days validity. This USSD Activation code of this *121*4026#.
170 Minutes at 99 BDT
If you are a budget user, then you avail of this pack. This is a weekly pack. Total validity of these packages is 7 days. you will get 170 minutes which can be used GP to any local operators. To avail 170 minutes Gp pack, dial *121*4006#. On the return SMS, the package will be activated
200 Minutes at 117 BDT
This package is the moderate version of the previous package. By increasing 17 BDT, you will get 10 days' validity and 30 minutes extra. So, why shouldn't you choose the pack?? Start right now. Dial *121*4007# for the activation. It will cost 117 BDT.
340 Minutes at 199 BDT
There is three monthly pack for the GP User. If you are a minimum user, then you can choose this pack. You will get 30 days validity with this pack. *121*4018# is the USSD code of activation. 199 BDT will be deducted from your account.
400 Minutes at 233 BDT
As we have mentioned earlier, Gp announces different packages for all classes of customers. This package is for budget users. 400 Minutes and 15 days validity will be provided to this minute pack users. Just you need to dial *121*4008#. Before activating this minute offer, keep your mobile balance 233 BDT at least.
500 Minutes at 288 BDT
500 Minute offer is the highest price minute offer of Grameenphone company. This pack is designed for the tough users of GP. At 288 BDT, A Customer will get 500 Minute talk time. It will valid until 30 days from the date of activation. This USSD Code to dial is *121*5074#
All GP Minutes offer at a glance
In the above list, you have already got the complete details of the GP Minute offer 2020. Here we have recapped all the offer lists in a table. It will help you to check all the minute packages at a time. You can calculate, compare and get all short details at once.
| Minutes | Price | Validity | Activation Code |
| --- | --- | --- | --- |
| 10 Minutes | 5.80 Taka | 6 hours | *121*4024# |
| 24 Minutes | 14 Taka | 16 Hours | *121*4001# |
| 40 Minutes | 24 Taka | 24 Hours | *121*1*2# |
| 75 Minutes | 44 Taka | 4 Days | *121*4003# |
| 90 Minutes | 53 Taka | 7 Days | *121*4004# |
| 130 Minutes | 78 Taka | 7 Days | *121*4026# |
| 170 Minutes | 99 Taka | 7 Days | *121*4006# |
| 200 Minutes | 117 Taka | 10 Days | *121*4007# |
| 340 Minutes | 199 Taka | 30 Days | *121*4018# |
| 400 Minutes | 233 Taka | 15 Days | *121*4008# |
| 500 Minutes | 288 Taka | 30 Days | *121*5074# |
GP Minutes offer terms and Condition
All GP Customers except the list below can avail of the above packages. These offers are not applicable to the
I-Sim
Flexi Load Sim
BPO
Xplore
XPlore Special
Xplore Plus and
Postpaid Customers
If anyone re-purchase this package, the validity will be counted from the new purchase date. The remaining minutes will be forwarded with the new minute offer. Buying GP Minute offer is an easy task. One can buy a minute offer by dialing USSD code, Flexi plan Apps or My GP Apps.
Here are all packages of GP Minute offer. Get ready to buy packages and don't forget to bookmark this site. Express your opinion about our site. Share is caring. Thank you for being with us.
Was this article helpful?