Teletalk Agami internet packages are one of the best internet packages for Telecom operators of Bangladesh. If you have collected the Teletalk Agami sim, then these packages are for you.
Teletalk Agami is the sim that is provided to the SSC Passed students. If you have SSC from 2010 to 2023 and achieved A+ then you can get the Teletalk Agami sim for free. Here are the details of Teletalk Agami Internet Packages.
Check Also: Teletalk Oporajita Internet offers
Teletalk Agami Internet Packages 2023
As we have mentioned earlier, Teletalk Agami internet packages are one of the best value packages in comparison with the other local operators of Bangladesh. Teletalk Agami is currently providing 6 internet packages for their student users. We have provided the details of each package.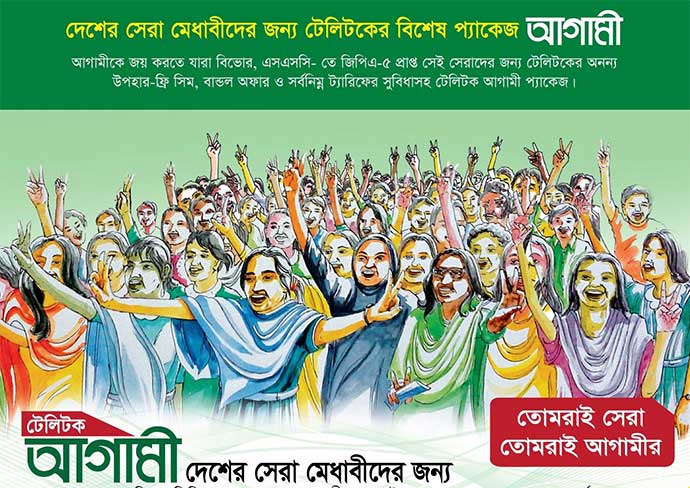 1 GB at 22 BDT
Teletalk Agami provides 1 GB of internet data at 22 BDT. If you are a heavy internet user, then this is one of the best packages for you. The validity is 7 days from the day of purchasing. To activate it dial *111*600#
1 GB at 45 BDT
If you are a minimal user of the internet, you can check these packages. The data volume is 1 GB. The specialty of this package is validity. You will get 30 days' validity to use this package. To activate dial *111*601#. It will cost 45 BDT
2 GB for 81 BDT
If you need more than 1 GB of internet volume in one month but less than 2 GB, this package is the best suited for you. It will cost 81 BDT for 30 Days. Dial *111*602# to activate the internet offer.
3 GB at 55 BDT
For those who heavily use the internet, a 3 GB internet pack is designed for them. AT 55 BDT, A Teletalk Agami Subscriber will get 10 days validity. The total Data volume is *111*603#
5 GB at 91 BDT
Teltalk Agami user can use 5 GB Internet for 15 days with 91 BDT. You need to dial the activation USSD code to activate this internet offer. The activation code is *111*605#
10 GB at 177 BDT
This is the largest data package for the Teletalk Agami users. The total cost is 169 BDT. The validity is 30 days from the day of buying. The activation code of this pack is *111*610#
Teletalk Agami 2023 All Data Plan at a glance
Here we have provided all data plans with the activation code, cost, and validity. If you are looking for comparing the data plan, then this table will help you.
| | | | |
| --- | --- | --- | --- |
| Data volume | Price | Validity | USSD Code |
| 1 GB | Tk.22 | 7 Days | *111*600# |
| 1 GB | Tk.45 | 30 Days | *111*601# |
| 2 GB | Tk.81 | 30 days | *111*602# |
| 3 GB | Tk.55 | 10 days | *111*603# |
| 5 GB | Tk.91 | 15 days | *111*605# |
| 10 GB | Tk.177 | 30 days | *111*610# |
The FAQ of TeletalTalk Agami
What will happen to the unused data?
Unused data will be carried forward if a subscriber buys this package before the expiration date
How to activate the Teletalk Agami Internet packages?
There are two ways to activate the Teletalk Agami internet package. The first one is the USSD code. Second, you can type the subscription code and send it to 111
What is the subscription code of the packages?
The subscription codes are 1 GB(7 Days) – A1,1 GB(30 Days) – A2, 2 GB(30 days) – A3, 3 GB(10 days) – A4, 5 GB(15 days) – A5, 10 GB(30 days) – A6
How to get Teletalk Agami Sim?
Teltalk Agami Sim is not for sale. Teletalk allows this sim for the SSC passed students who got a GPA of 5. To get the sim to follow the instruction of agami.teletalk.com.bd
This is all about the Teletalk Agami internet packages 2023. If you have more questions about Teletalk Agami Internet offers, please let us know. You can contact Teletalk customer cares too.
Was this article helpful?