Teletalk Bondho Sim offers are available here. If you have Teletalk Bondho Sim you can get these offers. We have covered all the Bondho sim offers here. Teletalk Bondho Sim offers to include bundled minutes, Internet and SMS. One can also enjoy the special call rate in Tele talk Bondho Sim offer.
Teletalk Bangladesh Limited is the government-owned telecom operator in Bangladesh. Bangladesh Government started this company on December 26, 2004. For applying different job circulars, Teletalk is widely used. But this telecom company doesn't get popularity at all. Teletalk is now trying to provide the facilities to return their customer by the Teletalk Bondho Sim offer.
Eligibility of Teletalk Bondho Sim offer
If you were a teletalk customer, you have an unused sim for three months, you are eligible for the Teletalk Bondho Sim offer. To check the Eligibility of the Teletalk Bondho Sim offer 2023, Send a message by writing your phone no to 112 number from your Teletalk Sim
Q. How to check the Teletalk Bondho Sim offer eligibility?
Send your phone no from your teletalk number by writing your Teletalk number to 112
Check Also: Bondho Sim offer of Banglalink
Teletalk Bondho Sim offer
Teletalk Brings special facilities in Teletalk Bondho Sim offer. A user will get 3 GB at 49 BDT, 3 GB for 38 BDT, 2 GB for 77 BDT special call rate and SMS in this offer.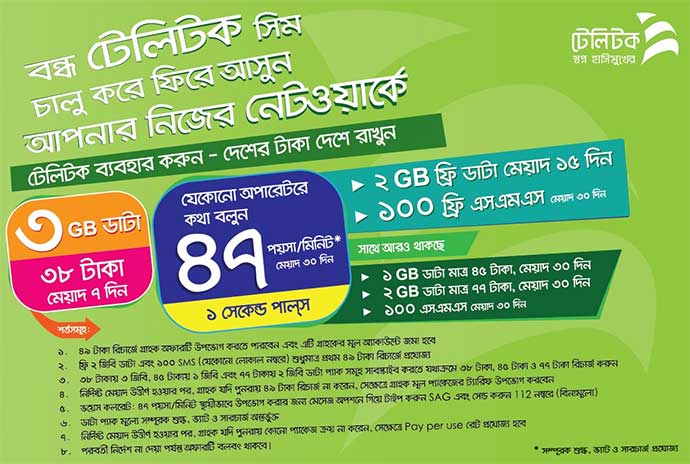 3 GB at 49 BDT
To get the offer you have to recharge 49 BDT from any teletalk retailer. you will get 3 GB internet for 15 Days. Besides this, you will get 100 SMS to any local number. SMS is valid for 30 Days. A Bondho Sim User can enjoy 47 Paisa Per Minutes for 30 days if he returns to the Teletalk. 49 BDT will be added on your mobile balance.
| | | |
| --- | --- | --- |
| Offer type | Offers | Validity |
| Voice | 47 Paisa Per Minutes | 30 Days |
| Data | 2 GB Free Data | 15 Days |
| SMS | 100 SMS to local operators | 30 Days |
3 GB for 38 BDT
If a bondho Sim User, recharge 38 BDT, he will get this offer. Total 3 GB  Data Volume will be given to the users. The Validity is 7 days.
1 GB for 45 BDT
This is also a recharge offer. To get the 1 GB internet data for 30 days, one needs to recharge 45 BDT. The validity is 30 Days from the day of recharge.
2 GB for 77 BDT
A TeleTalk Bondho Sim user can enjoy 2 GB internet for 30 Days. He needs to recharge 77 BDT to get this offer.
| | | |
| --- | --- | --- |
| Volume | Recharge | Validity |
| 3 GB | 38 BDT | 7 Days |
| 1 GB | 45 BDT | 30 Days |
| 2 GB | 77 BDT | 30 Days |
Special Data Pack can be purchased as many times as he wants during the time of Teletalk Bondho Sim offer
Q. How many times I can enjoy Teletalk Bondho Sim offers?
You can enjoy the Bondho Sim offer as many time as you want.
This is all about the TeleTalk Bondho Sim offers 2023. Teletalk Authority may change this offer at any time. We will update it if it is needed.
Was this article helpful?