Robi New Sim offer 2023 has different exciting offers. Robi is the second-largest operator in Bangladesh. They are regularly promoting to get new customers. If you are going to join Robi newly, then different exciting new sim offers Robi is waiting for you. Here is the post, where we have discussed different offers of Robi New sim along with Robi Facilities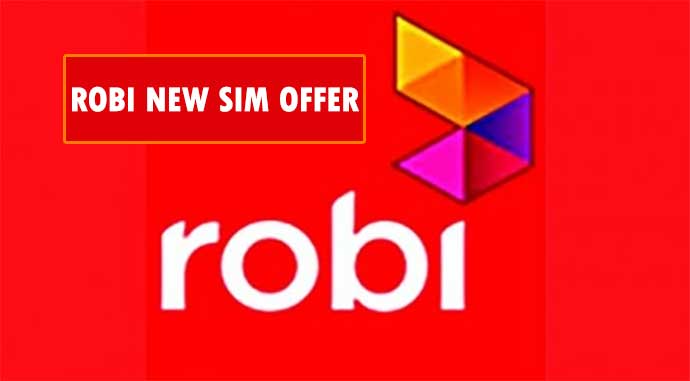 Robi New Sim offers 2023
If you join Robi, Robi will celebrate your joining by providing special gifts for you. After purchasing the Robi Sim, one should recharge 42 or 6 BDT to his account. After the first time recharge, 34 BDT main account balance will be added.
A newly join Robi user can enjoy 1 GB of the internet with BDT 9 Taka daily. Besides these, Robi offers a special data pack for new users. 2 GB internet with 5 days validity can enjoy with a 41 BDT Recharge. A user can buy this offer up to 3 months after activation of the new sim.
Robi New Sim offer 2023
| | |
| --- | --- |
| Internet Offer | 1GB at 9 Tk RechargeValidity 7 Days Single Time in a month12 Gb for 12 Month |
| More internet | 2 GB for 5 days available on 41 BDT RechargeValidity 5 Days Unlimited Times for 3 Months1GB any network and 1GB is for 4G Network |
| Special Rate Offer | 48 Paisa Per minute on any netAvailable on 42 BDT First Time Recharge30 Days Validity |
| Special Rate | Flat rate 24 Paisa/10 Sec50 Paisa Per Minute on 29 Taka for 3 Months User Can Enjoy Unlimited Time |
| Special Bundle | 90 Minutes to any Number BDT 59 Tk Recharge 10 Days Validity |
Why Robi New Sim?
As Robi is the second-largest mobile operator in Bangladesh, they are on the way to growing faster. They always try to become the first. For that purpose, they have already introduced different new things to their customers. We have described here some exclusive facilities of Robi
Best Call Rates in Robi
According to the Robi Website, Robi offers the best call rates to its customers. As a user of Robi, I personally prefer Robi for their call rate. If you wish to enjoy the best call rate, then Robi is always ready to welcome you.
High-Speed 4.5G in Robi
Robi brings the first 4.5 G Network for the very first time. The main motto of the Robi is Clearly Ahead. In the case of internet speed, Robi 4.5G Speed is better than any other mobile operator in Bangladesh.
Voice & Bundle Pack of Robi
Robi offers different voice bundle packs. If you are Robi Users you can enjoy different voice bundle pack or Robi Minutes offer. These facilities of a special voice bundle are available for Robi Users.
Robi Best Offers
Besides that, there are many more facilities for Robi. Robi Internet packs are popular due to their speed. Rbi provides different internet offers to its customers. Robi also provides combo packs to their users.
Basic Information about Robi
As you are New Robi users, this portion is just to remind some of the basic information. Robi's Account balance can be checked by dialing *222#. The Quick offer menu is *140#. The Internet volume can be checked by *3#. The minute bundle can be checked by *222*2#
This is all about Robi New Sim's offer 2023. If Robi changes this offer, we will update it according to their announcements.
Was this article helpful?