Robi Bondho Sim offers 2023 for the returning customer of Robi. If you were a Robi user, but don't use the sim for a long time, then you will be eligible for this offer. Robi is always ready to welcome you to their network. Here we have added the latest bondho sim offer or Robi Sim reactivation offers.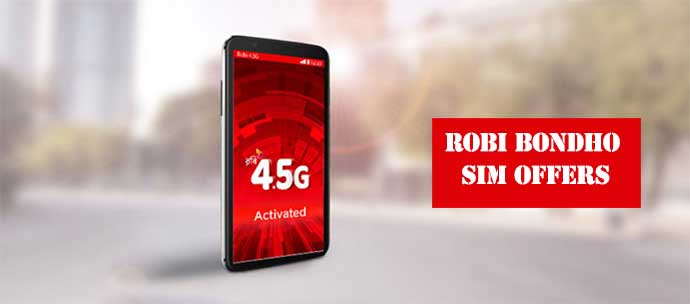 How to Check Eligibility of Robi Bondho Sim?
There are three ways to check the eligibility of the Robi Bondho Sim offer eligibility. We have discussed the checking process of Robi Bondho Sim's offer. Lets' have a look and check your eligibility.
Check through online
Robi's official website provides the facility to check the offer eligibility of Robi Bondho Sim. To check the eligibility, you have to follow the below steps
Visit Robi's official bondho sim offer page (https://www.robi.com.bd/en/personal/offers/silent-sim-offer)
You will get the following image to enter your mobile number

Enter your mobile number
Click on the Check now button
You will be notified whether your mobile number is eligible or not
Check by SMS
Robi also provides the opportunity to check the eligible number through the SMS system. To check the Bondho Sim offer by SMS, the below steps should be followed
Go to message options
Type A
Put a Space
Enter your mobile number
Send it to 8050
Check by USSD Code
USSD code is another way to check. You have to dial *8050#. Put your Bondho Sim Number and follow the instruction. A retailer can check by dialing *999#.
Robi Bondho Sim Offer 2023
If you return to Robi, Robi will welcome you by providing an exciting offer for you. This offer is known as the Robi Bondho sim offer.
5.5 GB at Tk.48 recharge
After the reactivation of Robi Bondho Sim, the customer has to recharge 48 BDT to enjoy the offer. After recharging 48 BDT, you will get 5.5 GB of the Internet. These offers are valid for five days. Bondho Sim Data can be checked by dialing *3#
47 Paisa/Min @Tk.47 recharge
If you return to Robi 4.5G Network, you will get the lowest minute offer at a 47 Paisa/Min rate. To enjoy this offer, you need to recharge 47 BDT. This offer is valid for 30 days only. You can purchase as many times as you want.
4GB Internet 120 Minutes at 119 Recharge
Robi Silent User can be able to get 4GB Internet and 120 Minutes on 119 BDT Recharge. Out of this 4 GB Internet, 3GB is for any use and 1 GB is 4G only. 120 Minutes can be used for any local number.
Robi Bondho Sim Offer 2023 Terms and Conditions
Offer can be purchased as many times as customers want
Everything can be changed according to the declaration of Robi
Until further notice, this offer will be valid.
This is all about Robi Bondho Sim Offer 2023. We have published it according to the website and announcements of Robi. If Robi Operators expand or change the offer, then we will update it here.
Was this article helpful?