Banglalink New Sim offer is for the new users of Banglalink. If you want to join the Banglalink family, then Banglalink will provide you with some exciting offers. We have described here, what you will get from Banglalink when you purchase a new Banglalink Sim.
Banglalink is the fastest-growing telecom company in Bangladesh. They are attracting their customers by providing awesome offers. After buying the new sim, Banglalink provides different call rates, bundle minutes and internet offers to their new users.
Banglalink New Sim offers
 When a person purchases a Banglalink sim, he will get the 5 BDT preloaded amount which is valid for 15 days. He also gets 50 MB of internet data for 4 days. Besides these, New Banglalink users will get 50 SMS and 22p/Min call rate to any local numbers. They also provide different extra facilities to their customers.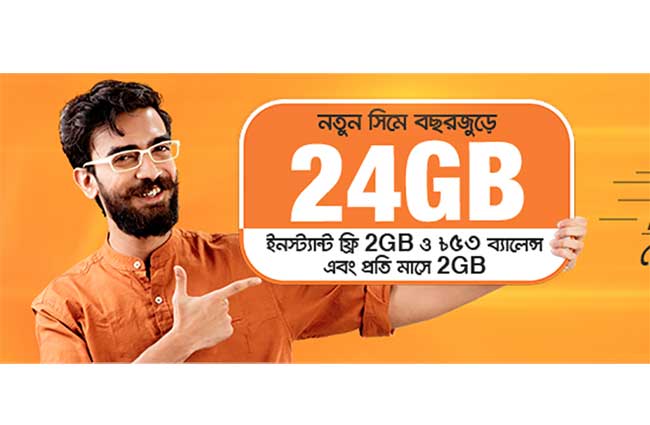 Internet and Recharge offers
If a Banglalink user recharges 27 BDT for the first time, he will get an extra bonus. He can enjoy 1 paisa/sec all to all operators including VAT, SD, and SC. This call rate will be valid for 30 days. After the first recharge of 27 BDT, He will be provided 1 GB of Internet Data for 7 Days. Data Balance can be checked by dialing *5000*500#
2 GB Every Month
After recharging 48 BDT first time, a customer will eligible for different offers. He can enjoy 2 GB of internet for 7 days every month. To enjoy this offer, one needs to recharge 48 BDT. This offer can be taken once a month. Banglalink will continue to provide it for the rest of the 11 months. *5000*500# is the internet data checking code. 48p/min call rate will also be available for 7 Days and 60p/Min for one month.
10GB, 100 Minute Bundle Offer
If a new sim customer recharges 222 BDT, he will get 10.0 GB of internet for 30 days. Additionally, he will get 100 Minutes. He can enjoy a 1 Paisa per second call rate for a lifetime. Balance can be checked by dialing *121*100#
Tk.224 Bundle Offer
On this bundle offer, Banglalink's new prepaid customers will get 200 MB and 370 Minutes for the first-time recharge. He will also get 10 SMS and 1 Paisa/ Min Call rate. The same benefit can be gotten through 223 TK recharge the next time.
Extra validity offers
Banglalink also provides extra validity to their new customers. Here we have mentioned some of the new sim offers of Banglalink.
Special Data offer
Banglalink New Sim offer includes extra validity. By 49 BDT, A Customer can avail of 2 GB of internet for 7 days. To enjoy this offer recharge 49 BDT or dial *132*949#
Special Call rate offer
Special call rates can be enjoyed by recharging 59 BDT. It includes 1 paisa/sec to any local operators of Bangladesh. The total validity is 7 days.
Special Minute Offers
Be recharging 47 BDT, 80 Min will be provided to the users' account. This minute can be used by any local operator in Bangladesh. The validity of this pack is 15 days. One can enjoy this offer by dialing USSD code *132*947#. Minutes balance can be checked by *124*100#
The FAQ of Banglalink New Sim offer
Q: How can I check my Banglalink Number?
Banglalink Number is printed on the packet. If you lost your packet, you can check Banglalink Number by dialing *511#
Q. How do I check my Banglalink Data usage?
Banglalink's internet balance checking process is easy. To check the internet balance dial *5000*500#
What is the price of Banglalink New Connection?
According to the Banglalink official website, the price of a new connection is 200 BDT. You can get it in any retailer of Banglalink.
Q. How to check the Banglalink account balance?
Banglalink Account balance checks USSD Code is *124#. For other operators check the number here.
This is all about Banglalink New Sim's offer 2023. If you have any questions about the Banglalink New connection offer, let us know. This is a limited-time offer. Banglalink authority can changes the offer anytime.
Was this article helpful?