There are a total of 15 Airports in Bangladesh. Out of these airports in Bangladesh, 3 Airports are international Airports and 12 Airports are used for domestic purposes. We have covered every detail of the Airports in Bangladesh here. Hope, this will provide you a clear concept about the Airports of Bangladesh.
Types of Airports in Bangladesh
Like other countries in the world, in Bangladesh, the airports are divided into two categories. First one is the International airports which deal with International Air Traffic. Another one is the Domestic Airports. Domestic Airports deals with the domestic flights of Bangladesh. So, there are two types of Airports in Bangladesh. These are
International Airports
Domestic Airports
International Airports in Bangladesh
In Bangladesh, there are three airports which maintain the International Airport Standards. These airports are larger than the domestic airports of Bangladesh. These airports have different facilities like customs, immigration, border controls, etc. Other logistic facilities are also available in those Airports. These Airports maintain the International Civil Aviation Standards. The Airports are
Hazrat Shahjalal International Airport, Dhaka
Shah Amanat International Airport, Chattogram
Osmani International Airport, Sylhet
Hazrat Shahjalal International Airport, Dhaka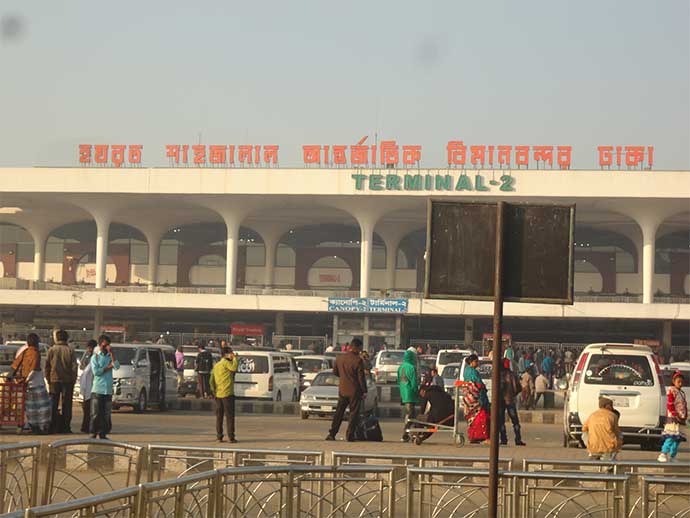 Hazrat Shahjalal International Airport is located in the capital city of Dhaka. It is the largest and most important airports in Bangladesh. From these Airports, almost all international passengers can embark and disembark. This is the largest hub of Bangladesh Air Force as well as private airlines company of Bangladesh. This airport facilitates domestic flights too. Below we have provided the details of Hazrat Shahjalal International Airport Dhaka (HSIA)
General Information of HSIA
ICAO ID:               VGHS
IATA CODE:         DAC
Latitude:              235036.05N
Longitude:           0902352.02E
TWR FREQ:         118.3 MHz, 119.3 MHz
ACC FREQ:           125.7 MHz, 129.7 MHz
DVOR:   112.7 MHz
NDB:      298 kHz
Hazrat ShahJalal International Airport Facilities
Hazrat Shahjalal International Airports provides different kinds of facilities to their users. Here we have listed some of the facilities for the users.
Multi-storied car parking along with open car parking facilities
Passenger lounge
Free luggage Trolley
Wheelchair facilities for physically disabled passengers
Visitor facilities
Banking System
Duty-Free Shop
Hotel Booking System
Wi-Fi
Flight Information Display System
Cargo Services
Shah Amanat International Airport, Chattogram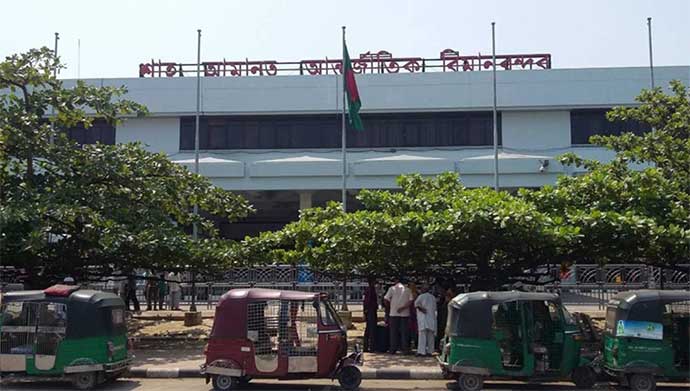 Shah Amanat International Airport, Chattogram is the second-largest airports of Bangladesh. It is in the port city of Bangladesh. It was established during World War II. After the independence of Bangladesh, this airport was used as a domestic airport for traveling Dhaka to Chittagong. Now it is an international airport in Bangladesh.
General Information about Shah Amanat International Airport
ICAO ID: VGEG
IATA CODE:          CGP
Latitude: 221525.28N
Longitude:            0914919.95E
TWR FREQ:          118.4 MHz, 119.4 MHz
VOR: 113.4 MHz
NDB: 287 Khz
Facilities of SAIA
For the passenger of the Shah Amanat International Airports Chattogram, there are many facilities are available. We have mentioned some of them in short here.
Parking: One can park any kinds of passenger carrying vehicles in SAIA for 24 hours.
Banking Facilities: Foreign currency exchange facilities are available in the terminal.
Hotel Booking: Shah Amanat International Airports authority provides the hotel booking facilities to their customers. Anyone can book a hotel from the airport lounge.
Security: For the security purpose, there are a huge number of armed forces member along with close circuit camera is available here.
FIDS and Luggage Wrapping: Flight Information Display System and Luggage Wrapping are also provided by the Airport Authority.
Contact Address
Airport Manager, Chattogram, Bangladesh, Phone: 880 2 41350100 (Off), Fax: 880 2 41350101,  email: [email protected], AFTN: VGEGYDYX
Osmani International Airport, Sylhet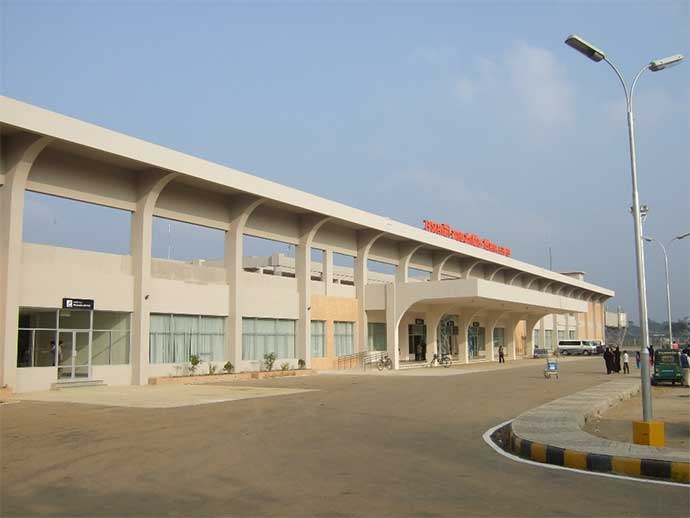 This Airport in Bangladesh is situated in the Sylhet Districts of Bangladesh. Bangladesh Civil Aviation Authority maintains this airport. Most of the citizen of Sylhet are living in the United Kingdom. On, 3 November 2002 it got the recognition of International Airport. Biman Bangla Flight from Kuwait launches here.
It provides the all international facilities of airports. This is the third-largest airports of Bangladesh which runs all kinds of international flights.
General Information
ICAO ID: VGSY
IATA CODE: ZYL
Latitude: 245740.83N
Longitude: 0915217.89E
TWR FREQ: 122.9 MHz, 122.5 MHz
VOR: 116.4 MHz
NDB: 372 kHz
Contact Address:
Airport Manager, Sylhet, Bangladesh.
Phone: 880 821 714243 (Off)
email: [email protected]
Domestic Airports in Bangladesh
Domestic Airports in Bangladesh handles only domestic air traffics in Bangladesh. From these airports flights run from the different region of Bangladesh. There are 12 domestic Airports in Bangladesh. Out of these airports, only 5 airports are fully functioning. 3 Airports are waiting for the approval the remaining airports doesn't provide any services.
Operational Domestic Airports in Bangladesh
There are five operational domestic airports in Bangladesh. From these airports, a passenger can visit the other region of Bangladesh. These are
Cox's Bazar Airport
Shah Makhdum Airport, Rajshahi,
Jessore Airport
Saidpur Airport
Barishal Airport
Needs prior approval for Domestic air operation
These three airports are fully ready and equipped for running domestic airlines. After the approval, these will start functioning.
Tejgaon Airport
Bogura Airport
Shamshernagar Airport (STOL)
Non-Functioning Airports
There are three airports which are ready but these airports are not providing any services. The airport's list is given below
Ishurdi Airport
Comilla Airport (STOL)
Thakurgaon Airport.
Under Construction Airports in Bangladesh
Khan Jahan Ali Airport, Bagherhat is in under construction airports of Bangladesh. Within the short period of time, hope this will get the approval of running air operation.
This is all about the Airports in Bangladesh. We have tried our best to provides the details information about the international airports of Bangladesh as well as list of the domestic airports in Bangladesh. All the airports are maintained by the Civil Aviation Authority of Bangladesh. If you have any question regarding the airports of Bangladesh
Was this article helpful?