The garments industry plays a vital role in the Bangladesh Economy. Here we have made a list of the top 10 Garments Industry in Bangladesh. If you are looking for information on the Garments industry, this post may help you. We have made a research about the garments industry, collected reliable information from different sources. Finally, we have made this list of top 10 Garments Industry of Bangladesh.
Ha-Meem Group
Ha-meem Group is one of the largest garments industry in Bangladesh. Currently, this group company owns 26 garments factories in Bangladesh. There are some other companies too. It is a private company. It earns a yearly 560 USD in revenue. More than 50000 people are currently working here. The head office of the Ha-Meem group is located in Dhaka.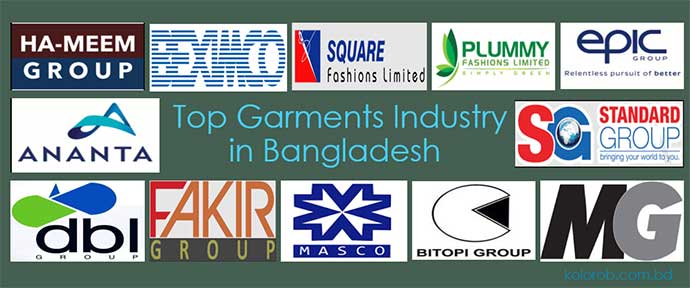 Beximco Groups
Beximco is another leading company in Bangladesh. Beximco runs several types of companies in Bangladesh. Beximco fashions are the emerging company in the garments sector. There are making a massive investment in the garments sector. The Beximco factory is located in Savar Dhaka. Though the Corporate office is in Dhanmondi Dhaka.
Square Fashions Ltd.
Square Fashions Ltd is the sister concern of Square group of companies. Square is a renown company in Bangladesh. It provides different kinds of textile and other products in the Bangladeshi Market as well as International Market.  Fulfilling customer demand is the main aim and vision of this company. The head office is located in Dhaka
Opex Sinha Group
The Factory is located in Kanchpur Dhaka. It is providing quality products in the local and international markets. This garments industry is one of the largest RMG exporters of Bangladesh
Fakir Group
Fakir Group is providing Knit Garments, Garment Level Designing, and Manufacturing, etc in the international market. Fakir Fashion Limited is 100% export-oriented companies in Bangladesh. It is in the top listed garments industry of Bangladesh. The Head office and garments factory is located in Narayangonj, Dhaka
DBL Group
DBL Group is a multi-dimensional textile and garment knitwear company in Bangladesh. More than 35000 employees are currently working in DBL Group. DBL Group supplies quality apparel to the global market. The previous year, they get almost 575 Million return Which made them top listed garment industry in Bangladesh
Epyllion Group
Epyllion group is manufacturing Readymade Garments products and knitwear. They are supplying this product throughout the market. The market of this garment industry is in Europe, the USA, and Australia. There are four garments division in this group. These are Dekko Knitwears Ltd, Epyllion, Dazzling Dresses, Epyllion Styles. They also have a laboratory, washing unit, accessories unit. The corporate office is located in the Dhaka Bangladesh
Standard Group
Standard Group is one of the longest-running garments industry of Bangladesh. It was established in 1984. More than 40000 Employees are currently working in this industry in Bangladesh. There is a total of 11 productive garments factories in this company. The largest after effect plan of Bangladesh as well as the second most massive effect plan of Asia is the belonging of Standard Group.
Asian Apparels Ltd
Asian Apparels is another market leader in Bangladesh. They have 16 garments production facilities, three washing units. More than 30000 employees are working in Asian Apparels. Yearly revenue is more than 300M USD. The main office is located in Chittagong, Bangladesh.
KDS Group
This is the last garment group of companies in our top 10 list. It is the most renowned business. Largest garments factory, 100% export-oriented company in Bangladesh. It is one of the largest garments industry in Bangladesh. The mother company is situated in Chittagong, Bangladesh.
Top 10 Garments Factory list
Garments Name
Address
Website
Ha-Meem Group
Phoenix Tower (4th Floor), 407, Tejgaon Industrial Area, Dhaka-1215, Bangladesh.
www.hameemgroup.net
Ananta Group
House 20, Rd No 99, Gulshan-2 Dhaka 1212, Bangladesh
http://www.ananta-bd.com/
Plummy Fashions Limited
Unit -502, Concord Tower, 113 Kazi Nazrul Islam Avenue, Dhaka – 1000
http://plummyfashions.com/
Standard Group
Civil Engineers Bhaban-69, Mohakhali C/A, Dhaka 1212, Bangladesh.
http://www.standard-group.com/
DBL Group
23/1 Panthapath Link Road, BGMEA Complex, Kawran Bazar, Dhaka – 1215, Bangladesh
www.dbl-group.com
Fakir Group
Room# 82-84, (4th floor), Lucky chamber, 89, Motijheel C/A, Dhaka-1000
www.fakirgroupbd.com
Masco Industries Limited
House # 6, Road # 1, Sector # 3, Jashimuddin Avenue, Uttara, Dhaka-1230, Bangladesh
http://www.mascoknit.com/
BITOPI Group
822/3, Begum Rokeya Sharani, Shewrapara, Mirpur, Dhaka 1216, Bangladesh
http://www.bitopi-group.com/
Epic group
House No.17, Road No. 15, Sector No.03, Rabindra Sarani, Dhaka, Bangladesh.
http://www.epichk.com
Sterling Alliance
Road No # 47House No # 25Flat # B-2, Gulshan – 2, Dhaka, Bangladesh
–
Mohammadi group
Lotus Kamal Tower-One (10th Floor), 57 Joar Sahara C/A, Nikunja-2, Dhaka 1229
 http://www.mohammadigroup.com/
Epyllion Group
Ninakabbo, 227/A, Tejgaon-Gulshan Link Road, Dhaka, Bangladesh
www.epylliongroup.com
Dekko Group
Suvastu Zenim Plaza, House#37 (4th Floor),Road#16 (Old 27), Dhanmondi R/A, Dhaka-1209, Bangladesh
www.dekkogroup.com
SQUARE Textile
48 Mohakhali C/A Dhaka-1212, Bangladesh
http://textile.squaregroup.com/
KDS Group
255 Nasirabad I/A, Baizid Bostami Road,
Chittagong 4211, Bangladesh.
www.kdsgroup.net
This is all about the Top 10 Garments Factories of Bangladesh. If you are looking for more information, let us know through comments. We will help you to get the desired data.
Was this article helpful?