Parabat Express Train Schedule and Ticket Price 2023– Parabat Express has been nominated as one of the most luxurious and prestigious train services from Bangladesh Railway. It connects the capital city Dhaka and Sylhet. Parabat express has a great demand for its excellent services. There are many train services are available on the Dhaka-Sylhet route. In this article, we discuss the Parabat express train schedule and ticket price with detailed information. If you are interested to know all the latest and important information about the Parabat express train service, please read the article until the very end.
About Parabat Express Train
In Dhaka to Sylhet train route, Parabat express is the most popular train service. It is one of the oldest intercity train services in Bangladesh. The train was made its first inaugural run on March 19, 1986. It was first introduced as an intercity train that offers a luxurious and excellent service. The train leaves Dhaka train station since its inauguration. Parabat express has priority in the Bangladesh Railway network. Parabat express stops fewer stations than the other Dhaka-Sylhet express trains and stops only at major stations. Parabat express train has a total of 16 carriages including 8 Chair cars, 2 AC chair cars, 2 Non-AC chairs cars, 2 Guard brakes with attached dining, 1 carriage for Non-AC cabins, and 1 for generator cars. You can also board from Dhaka Biman Bandar. Parabat express is available six days a week. If you are wanted to travel from Dhaka to Sylhet by train, obviously the Parabat express is the right choice for you, because it is the best intercity train service on the Dhaka-Sylhet route.
Parabat Express Train Schedule Dhaka to Sylhet
Parabat express train number is 709 when it runs Dhaka to Sylhet route. Parabat express Sylhet to Dhaka schedule starts at 6:40 AM from Dhaka Kamalapur railway station and arrives in Sylhet railway station at 1:40 PM. The train is available 6 days a week. Parabat express train off-day is Tuesday.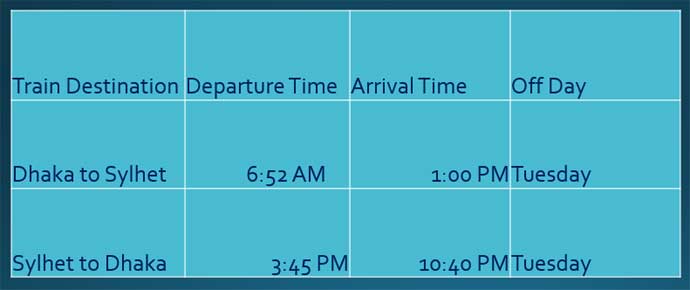 Parabat Express Train Schedule Sylhet to Dhaka
When the Parabat express train return from Sylhet to Dhaka, its code number is 710. Parabat express train departs at 3:45 PM from Sylhet railway station and reaches Kamalapur railway station at 10:03 PM. Parabat express train off-day is Tuesday when the destination is Sylhet to Dhaka.
In below, we will show you the Parabat express time schedule Dhaka to Sylhet and Parabat express time schedule Sylhet to Dhaka in the schedule table.
| | | | |
| --- | --- | --- | --- |
| Train Destination | Departure Time | Arrival Time | Off Day |
| Dhaka to Sylhet | 6:52 AM | 1:00 PM | Tuesday |
| Sylhet to Dhaka | 3:45 PM | 10:03 PM | Tuesday |
Parabat Express Train Stoppages
Parabat expresses train halts in several stations while running on Dhaka to Sylhet route. Here, are all Substations names with the departure time of Parabat express are given below.
| | | |
| --- | --- | --- |
| Station Name |  Arrival Time | Departure time |
| Kamalapur Railway Station | | 6:20 AM |
| Biman Bandar Station | 6:47 AM | 6:52 AM |
| Bhairab Bazar Station | 07.53 AM | 7:56 AM |
| Brahmanbaria Station | 8:16 AM | 8:19 AM |
| Azampur Station | 8:40 AM | 8:42 AM |
| Nayapara Station | 9:20 AM | 9:22:00 AM |
| Shaistagonj Station | 9:49 AM | 9:52 AM |
| Srimangal Station | 10:30 AM | 10:33 AM |
| Bhanugach Station | 10:53 AM | 10:55 AM |
| Kulaura Station | 11:27 AM | 11:30 |
| Maizgaon Station | 12:00 PM | 12:02 PM |
| Sylhet Station | 1:00 PM | |
Parabat Express Seat Plan
In Parabat express train, there are four types of seat category are available. They are-
Shovon Chair
First Berth Seat
Snigdha Chair
AC Seat
Parabat Express Dhaka To Sylhet Ticket Price
In our country, the ticket prices are varying with seat category. Here, we will provide the Parabat express train ticket price with different seat categories including VAT in below-
Parabat Express Shovon Chair- 340 Taka.
Parabat Express First Berth Seat- 445 Taka.
Parabat Express Snigdha Chair- 630 Taka.
Parabat Express AC Seat- 756 Taka.
Parabat express ticket price from Dhaka to Sylhet are given below chart-
| | |
| --- | --- |
| Seat Category | Ticket Price |
| Shovon Chair | 340/- BDT |
| First Berth Seat | 445/- BDT |
| Snigdha Chair | 630/- BDT |
| AC Seat | 756/- BDT |
Facilities of Parabat Express Train
Parabat express provides some excellent facilities for its passengers like a prayer room, food facilities, primary medical services, public toilets, etc. People usually travel to Parabat Express for their timely and fast service. The train has more AC wagons than any other Dhaka-Sylhet express train. This attracts passengers who prefer a luxury travel experience. Furthermore, traveling by Parabat express allows passengers to see the scenic beauty of the Sylhet division. You can enjoy beautiful hills, tea gardens, and rural lifestyles while traveling on Parabat Express.
Parabat Express Train Video
Here is the Parabat express train video for you where you can gain some experience about the train journey with Parabat express.
So, that's all from us about the Parabat express train schedule and ticket price 2023. Hopefully, this article is useful for you to know the information about Parabat express train. There are also other train services are available on the Sylhet-Dhaka route. Before making any decision check once Sylhet to Dhaka train schedule. If you have any confusion or query, please feel free and send us your comment in below comment box. We will answer your comment as soon as possible.
Was this article helpful?