Turna Express Train Schedule and Ticket Price 2021– Turna express train is called Turna Nishita express. It is also called Queen of the night. Because it is the excellent train service in Night schedule from Bangladesh Railway. If you are a train traveler and love to journey in the Dhaka-Chittagong route, then Turna express is suitable for you. If you are looking for Turna express train schedule and ticket price, this article is for you. In this article, you will discuss all the latest information about Turna express. So, stay with us until the end of this article.
About Turna Express Train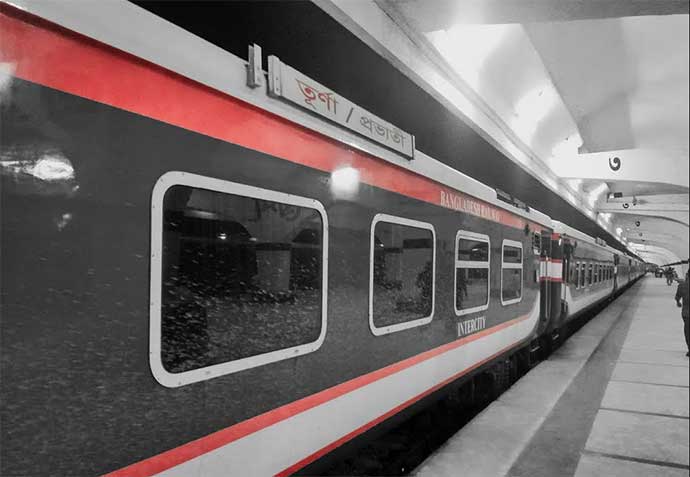 There are many train services are running on the Dhaka-Chittagong route. In our article "Dhaka to Chittagong train schedule 2021", we discuss all those train services with the schedule. Turna Express is one of the finest intercity train services which runs on the route. Turna Express is a first-class train service in Dhaka to Chittagong train route. It is one of the luxurious train services from Bangladesh Railway. It provides excellent services and also provides different facilities for its passengers during the journey. This train is operating at night both Dhaka and Chittagong It covers 230 kilometers or 140 miles on this route. It takes 7 hours form source to destination. Turna Express has a total of 19 carriages car, where 8 carriages are used for Shovon Chair, 4 carriages are used for AC Chair car, 3 carriages for AC Sleeper car, 2 for the dining car, 1 for 1st berth sleeper and 1 for power car.
Turna Express Train Schedule 2021
Turna express train route is Dhaka- Chittagong. It connects the capital city Dhaka and port city Chittagong.   Usually, it is the night train schedule which runs from Dhaka railway station and Chittagong railway station at a time. So, those passengers who are traveling in this route at night, it will be the best choice for them. Here, we briefly describe the Turna express train schedule from Dhaka to Chittagong and Chittagong to Dhaka respectively.
Turna Express Train Schedule from Dhaka           
Turna express train number is 742 from Dhaka to Chittagong. It leaves from Kamalapur railway station at 11:30 PM and reaches is Chittagong railway station at 06:20 AM. Turna express train has no off day. So, it is running on this train route every day in a week.
Turna Express Train Schedule from Chittagong   
Turna express train number is 741 when it runs from Chittagong to Dhaka. It departs from the Chittagong railway station at 11:00 PM and arrives at Dhaka Kamalapur railway station at 05:15 AM. There is no off day for Turna express from Chittagong to Dhaka.
Turna Express Dhaka to Chittagong train schedule 2021 and Chittagong to Dhaka train schedule are given below in the chart.
| | | | | |
| --- | --- | --- | --- | --- |
| Train Route | Train Code | Departure Time | Arrival Time | Off Day |
| Dhaka to Chittagong | 742 | 11:30 PM | 06:20 AM | No Off Day |
| Chittagong to Dhaka | 741 | 11:00 PM | 05:15 AM | No Off Day |
Turna Express Seat Plan
According to the Bangladesh railway seat plan, Turna express has four different types of seat categories. They are-
Shovon Chair
Snigdha Chair
First Berth
AC Berth
Turna Express Train Ticket Price 2021
Dhaka to Chittagong train ticket price 2021 differs from the train by train. Turna express ticket price is fixed from Bangladesh railway. Here, you will see the Turna express train ticket price in the Dhaka-Chittagong route.
AC Berth -1249 Taka.
First Berth -755 Taka.
Snigdha Chair – 676 Taka.
Shovon Chair – 365 Taka.
This is the updated ticket price for Turna express. Here, this ticket is applicable for each adult. Also, Turna express provides a half ticket price for the child. This ticket price is calculated with all VAT and Service charges.
Turna Express Train Stoppages
Turna Nishita is the direct train service in the Dhaka-Chittagong route. Though this train is halted in four sub-stations. Turna express stoppage are-
Feni Station.
Laksham Station.
Comilla Station.
Brahmanbaria Station.
Turna Express Train Location tracking
Bangladesh railway provides train tracking facilities. You just need to know the simple process. Simply, you send an SMS from your Mobile phone. To find out the current position of Turna express train location, go to the message option on your phone and type TR <Space>Train Number and send it to 16318. In reply to SMS, you will get location information on your mobile phone.
Example: TR 742 Send to 16318
Facilities of Turna Express Train
Turna express gives a lot of facilities for the passengers. The facilities are
Large space for prayers.
Food facilities of the passengers.
Public toilet in each compartment.
Primary medical facilities.
Strong security system.
Turna Express Train Video
Here is the live Turna express train video that you will gather some experience with Turna express train journey.
Thank you very much for reading this article and keep visiting our website for the latest information. We think that Turna Express Train Schedule and Ticket Price 2021 will be helpful for you. If you have any questions about this article, please feel free and send us your comment. We will answer your comments as soon as possible. Have a safe and nice train journey with Turna express.
Was this article helpful?