In the year of 2005, Jagannath College has turned into Jagannath University.  Jagannath University is situated in the southern part of Dhaka. If you want to get admit yourself to the Jagannath University, you should be aware of the Jagannath University Subjects. In the admission test, Jagannath University is divided into four units. These are A, B, C & D. Each of the Units comprises a different subject. Before taking the forms of the Admission test, one should have a look at the JNU Subject list. Below we have provided the list.
Jagannath University Faculties
Jagannath University has 6 different faculties and 2 institutes. Each of the faculty has different subjects. The faculty names are
Faculty of Arts
Faculty of Science
Faculty of Social Science
Faculty of Business Studies
Faculty of Law
Faculty of Life and Earth Sciences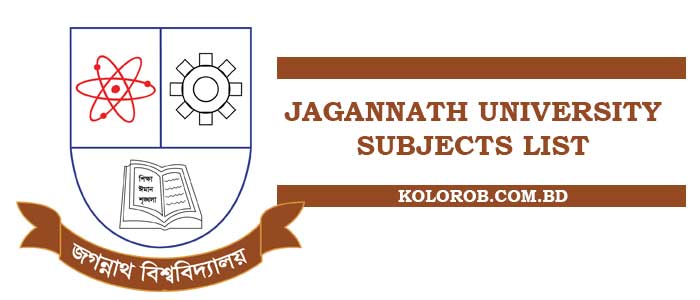 Besides these, there are two separate institutes in this university. These are Institute of Modern Language and Institute of Education & Research.
Each of the faculties are have different departments. These are under the different units too. We have added subject list according to the unit.
Jagannath University A Unit Subject List
In Admission Test of Jagannath University, A Unit is for the students of Science. Basically, in this unit all the subjects are related to science group. If you are student of science, it is recommended to apply for A Unit. We have provided the subjects list here.
Chemistry
Computer Science and Engineering
Mathematics
Biochemistry and Molecular Biology
Botany
Genetic Engineering & Bio-technology
Geography & Environmental-
Microbiology
Pharmacy
Physics
Psychology
Statistics
Zoology
Jagannath University B Unit Subject List
Jagannath University B unit belongs to different arts and Humanities Subjects. Though any student can apply for this unit. There are 17 subjects in this unit. So, the more possibilities to get chance of Jagannath University. The Subjects are                                                  
Anthropology
Bengali
Communication & Journalism
Economics
Education Research
English
History
Islamic History & Culture
Islamic Studies
Land Management & Law
Law Department
Modern Languages
Philosophy
Political Science
Public Administration
Social Work
Sociology
Jagannath University C Unit Subject List
JNU C Unit is under the business administration departments. Faculty of Business Studies maintains this unit. There are only four subjects available here. If you want to study in Business related subject, then it is the most important department for you.
Finance
Accounting & information-systems
Management studies
Marketing & faculty-members
Jagannath University D Unit Subject List
It is the unit for the creative students. The subjects under this Unit is mainly related to fine arts. There are four subjects here. These are
Fine Art & graphics
Drama & Dramatics
Film & Television
Music
These are all about the Jagannath University Subject List. Hope this will be helpful for you. If you have any questions regarding the subject list of JNU, feel free to ask us through comments. We will try our best to answer your queries. 
Was this article helpful?