Are you looking for the Rajshahi University Subject list? You may know that Rajshahi University has many subjects and faculties. Rajshahi University Authority has divided the whole university into several faculties. Each of the faculty has different departments. This divination is for a better administrative purpose. Here we have provided the All Subject List of Rajshahi University. We have updated it according to the faculty,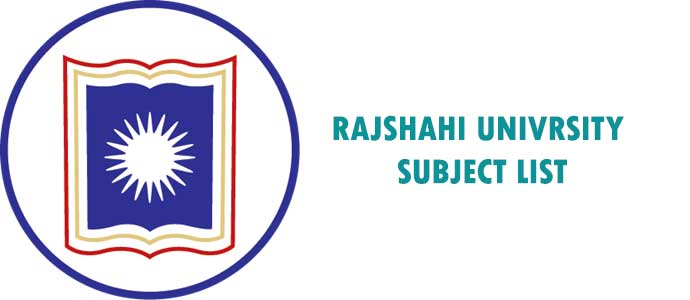 Faculties of Rajshahi University
On the excellent maintenance and administrative purpose, Rajshahi University has nine different faculties. Each of the faculty runs separately by a dean. All the dean reports to the Vice-Chancellor of the university. Each of the Faculties has different Subjects and activities. There are nine faculties at Rajshahi University. The Faculties are  
Faculty of Arts
Faculty of Law
Faculty of Science
Faculty of Business Studies
Faculty of Social Science
Faculty of Life & Earth science
Faculty of Agriculture
Faculty of Engineering
Faculty of Fine Arts
RU Subject List
We have organized all the subjects of Rajshahi University, according to the faculty. In 9 Faculties, there are almost 60 subjects. Some of the Subjects are applied, and some are general subjects. Let's check the departments of Rajshahi University.
RU Arts Faculty Subjects
RU arts faculty has 12 subjects that are related to arts and humanities. Some of the departments are related to language and literature. Here is the subject list of RU Arts Faculty
Philosophy
History
English
Bangla
Islamic History & Culture
Arabic
Islamic Studies
Theatre
Music
Persian language and literature
Sanskrit
Urdu
Faculty of Law Subjects List
Law faculty deals with the law-related subjects. Rajshahi University law faculty has two subjects only. But these two subjects are enriched with different facilities. Subjects are
Law
Law and Land Administration
Rajshahi University Science Faculty Subject List
The name of the faculty expresses its activities. There are nine different departments in the Science faculty. All the subjects are related to science and scientific research. The subjects are
Applied Mathematics
Biochemistry & Molecular Biology
Chemistry
Mathematics
Pharmacy
Physical Education and Sports Sciences
Physics
Population Science & Human Resource Development
Statistics
RU BBA Faculty Subjects
Rajshahi University provides quality and modern education to the faculty of Business Studies. There are six advanced subjects in this faculty. Subjects are
Accounting and Information Systems
Banking and Insurance
Finance
Management studies
Marketing
Tourism and Hospitality Management
RU Social Science Faculty Subject List
Social Science Faculty of Rajshahi University is one of the most traditional faculties of RU. There ten different social related subjects here. If a student likes social science subjects, this will be the great faculties for them. The subjects are
Anthropology
Economics
Folklore
Information Science & Library Management
International Relations
Mass Communication and Journalism
Political Science
Public Administration
Social Work
Sociology
RU Life & Earth science Faculty Subjects
Rajshahi University authority provides emphasis on Life and Earth Science.
For this reason, this faculty is separated from the science faculty. The subjects of this faculty are modern enough. The subjects list of RU life Science faculty is given below.
Botany
Clinical Psychology
Genetic Engineering & Biotechnology
Geography & Environmental Studies
Geology & Mining
Psychology
Zoology
RU Agriculture Faculty Subjects List
Bangladesh is a land of Agriculture. Rajshahi University keeps pace with time. That's why they have opened a new faculty, namely, Faculty of Agriculture. There are four subjects in this faculty. The number of subjects will grow soon. The departments  are
Agronomy and Agricultural Extension
Crop Science and Technology
Fisheries
Veterinary & Animal Sciences
Engineering Faculty Subject List
The engineering faculty of Rajshahi University deals with different Engineering related subjects. There are some great subjects available here. Lie ICE, EEE, etc are the most demanding subjects in Bangladesh. The subjects are
Applied Chemistry & Chemical Engineering
Computer Science & Engineering
Electrical and Electronic Engineering
Information & Communication Engineering
Materials Science and Engineering
Fine Arts Faculty Subject list
This is the last faculty on our list. Fine arts are the beauty of the campus. Rajshahi Universities, fine arts faculty, has a glorious history and different creative works. There are three subjects are
Ceramics and Sculpture
Graphic Design, Crafts & History of Art
Painting, Oriental Art & Printmaking
This is all about the Rajshahi University Subject list. If you want to know more about the RU Subjects list, let us know through comments.
We are looking forward to assisting you at Rajshahi University.
Was this article helpful?