Bangladesh Railway provides opportunities to buy a train ticket online. Not only that, One can check the train ticket fare, seat plan and train schedule from online E-Ticketing System. Here we have discussed the details process of buying online train Ticket
Steps to Buy Online Train Ticket
To purchase an online train ticket in Bangladesh, one has to follow two steps. The steps are
Register on Online Portals: This is the first steps of buying a train ticket. If you have already registered on the web portals of Bangladesh Railway, then you don't need to follow this step. You can go directly to the next steps.
Buy Train Ticket: This is the major steps of buying online Train ticket of Bangladesh. Here you have to follow some mandatory steps to get the confirmation of E-Ticket
We have added details process below with the images.
Register on Online Portals
As I have discussed earlier, this is one-time steps. Those who have already registered on the official portals of Bangladesh Railway then you can skip this process.
How to register on Railway official Site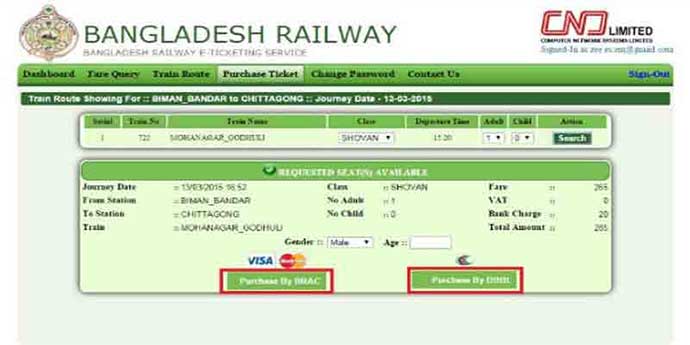 Enter web address "www.railway.gov.bd" on your favorite browser
Click on the "Railway E-Ticketing service" on the right-side menu
You will be redirected to CNSBD Website which is authorized for providing the E-Ticket. To make it confirm you can check the official logo of CNS ltd. and Bangladesh Railway.
Click on sign up button
You will be taken to the Create an Account Page. Here you have to fill up Personal Information and Other extra information.
Enter the Security Code and click on the Register Button.
If all the provided information is correct, A new page will be opened where you will see the message "Registration Successful".
You will get an email to confirm the message with an activation link.
Click on the Activation link and Done.
How to Buy Online Train Ticket?
Buying online train ticket is an easy task. If you want to buy an online train ticket you can follow the below steps to get your ticket.
Enter the www.esheba.cnsbd.com on your web browser
Click on the login Button
After Entering the Email Address, Password and Security Code you will be able to log in on the Website.
Click on the Purchase Ticket Button
After clicking the Purchase Button, you will be asked to fill Up or Select the following things.
The Date of the Journey,
Departure stations,
Destination,
Train Name
Class
Number of Tickets
Then Click on the Next Button
On the Next page, you can see Registration Seat Available with their prices.
After Filling the Data Click on Purchase Ticket Button.
You can pay ticket fee via Credit Card, Cash Card or Brac Bank, DBBL Mobile Banking as well as bKash Also
After making a payment you will get a mail from the CNS BD.
Print the Information
After showing it to the counter, you will be given a printed ticket. That's all
Buy Train Ticket through Apps
Recently Bangladesh Railway authority has launched an app which is named as "Rail Sheba" (https://play.google.com/store/apps/details?id=com.cnsbd.railsheba&hl=en). One can purchase a ticket from the apps too. The process is exactly the same as described above. But you don't need to Enter any website rather you need to enter on the Apps. Payment method is the same too
Important Information about Buying Train Ticket
A Passenger can buy ticket 10 days before the journey
Credit and Debit card, DBBL Mobile Banking, Bkash are supported as Payment Gateway
The official website  is esheba.cbsbd.com
The train ticket can be collected anytime by showing E-Ticket Print information.
It is recommended to collect the ticket at least 30 minutes ago before the journey
You can choose Seats online.
Train Journey is always interesting for all. In the current circumstances of Bangladesh, Bangladesh Railway services are suitable for all. To make your journey enjoyable you need to buy a train ticket. Don't forget to thanks Bangladesh Railway to provides the opportunity to buy online train ticket by using the comment form.
Was this article helpful?