All of us is familiar with Chittagong University. This is one of most reputed public universities in Bangladesh. Students all over Bangladesh eagerly waited for the admission at Chittagong University. Chittagong University Subject list is essential for them. We have here added all the subject list according to the faculty and admission Units. Hope this Subject list of Chittagong University will help you. We have covered the cu faculty details as well as Chittagong University unit details.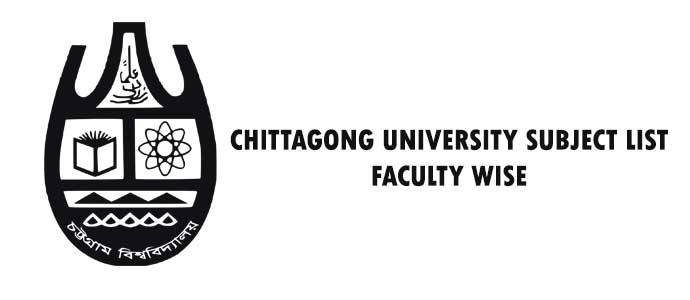 Chittagong University Faculties
Chittagong University belongs to 10 academic faculties where thousands of students get admitted themselves every year. Each of the faculty comprises different subjects or disciplines. We are here add all the discipline list according to the faculty. The Faculties are
Faculty of Arts and Humanities
Science Faculty
Business Administration Faculty
Social Sciences Faculty
Faculty of Law
Faculty of Biological Sciences
Faculty of Engineering
Faculty of Education
Marine Sciences and Fisheries
Faculty of Medicine
Chittagong University Subject list ( Faculty wise )
Chittagong University comprises 1754 acres of land. Total 10 faculties maintain the 54 Departments and institute.  872 faculty members along with 2046 non-academic staffs are working to make the university better. Almost 27800+ students are currently studying in various subjects and departments.
Faculty of Arts and Humanities
This is one of the oldest faculties in Chittagong University. Mainly this faculty dedicated to Arts and Humanities students. Though other students can get admission in this faculty through an admission test. This faculty maintains a total 16 Subjects and Institutes. Admission test and other activities of these subjects are maintaining by the Faculty of Arts and Humanities.
Bangla  
English
History
Islamic History and Culture
Philosophy
Fine Arts
Arabic
Pali
Islamic Studies
Dramatics
Persian Language & Literature
Modern Languages
Sanskrit
Music
Bangladesh Studies
Education and Research
Science Faculty
Pure Science Subjects belongs to this Faculty. There are only six subjects on this faculty. Different types of scientific journals and research made by these faculty students along with their teachers. Science Faculty is known as A Unit. So, You can call the below subjects as CU a unit subject list. The subjects are
Physics
Chemistry
Mathematics
Statistics
Forestry and Environmental Sciences
Applied Chemistry and Chemical Engineering
Business Administration Faculty
This faculty is related to the Business administration. Day by day, the world becomes smaller. This faculty provides quality education to the students to keep pace with the modern world. In CU Admission Test, Business Faculty known as Chittagong University C Unit. So The subjects of Chittagong University C Unit are
Accounting
Management
Finance
Marketing
Human Resource Management
Banking and Insurance
Besides these, there is an institution which is maintained by Business administration faculties of Chittagong University. This institution is known as Chittagong University Center for Business Administration.
Social Sciences Faculty
To make a relationship between two people, to the nation and keep a well-maintained society Social Science faculty was introduced. This faculty students get quality education about society and relationship and different topics. Social Science faculty students play an important role to keep the society alive. There are 10 subjects at Chittagong University Social Science Faculty. This faculty consists of Chittagong University D Units. CU D unit subjects list are given below
Economics
Political Science
Sociology
Public Administration
Anthropology
International Relations
Communication and Journalism
Development Studies
Criminology and Police Science
Social Science Research
Faculty of Law
To defend a country from evil people, the law is compulsory. But making law is no an easy task. Laws are created and enforced by the government. Law students create, change and practices law. To implement justice, one has to know the law of that country. Law faculty is founded with an aim to create quality law students. This faculty has only one Department. This is Law.
Faculty of Biological Sciences
The current period is the era of Biology. Biological faculty deals with different life science departments. Previously this faculty was a part of Science Faculty. A few years age this faculty is separated from the Science Faculty. Nine Departments constitutes the Biological Science faculties. These are
Zoology
Botany
Geography and Environmental Studies
Biochemistry and Molecular Biology
Microbiology
Soil Science
Genetic Engineering and Biotechnology
Psychology
Pharmacy
Faculty of Engineering
This Faculty is newly formed in Chittagong University. The subject list will grow up in the course of time. Right now, there are two disciplines are available on Engineering faculty. The disciplines are
Computer Science & Engineering
Electrical and Electronic Engineering
Faculty of Education
This Faculty is also known as Physical Education Faculty. As there are only one subject in this faculty. Physical Education and Sports Science department are maintained by this faculty.
Marine Sciences and Fisheries
Bangladesh is a land of River. Chittagong is one of the major cities which maintains the demand for fishing and ocean-related activities. Chittagong University Authority has emphasised on this. That's the reason for this faculty foundation. Three departments belong to this faculty. These are
Marine Sciences
Oceanography
Fisheries
Faculty of Medicine 
Community Ophthalmology institute is belonging to this faculty. Community Ophthalmology. Though there are many institutions like Chittagong medical college belongs to this faculty's affiliation.
From the above description, you already get all the subject list of CU. We always keep the Chittagong University Subject list updated. So keep in touch with us.
Was this article helpful?