The mixture of different ethnic inhabitants has contributed to the forming variety of size, looks and appearances of the people of Bengal. Similarly, the varied mixture of linguistically different people has made their culture diversified. However, in this rural, agro-based country, the rural culture enjoys prominence. Besides, the whimsical rivers and seasonal diversity contribute to enriching the minds of Bangalees. Understanding the Bangalee culture requires an understanding ground of this diversity.
Different religious tribes of Bangladesh are unable to remain restricted to their separate cultural identity. One cannot limit culture within a particular tribe. When two cultures continue alongside, one influences the other. Thus, the culture of a religious tribe is influenced by another. This mixing happens in language, food, clothing, observances and even religious rites. That is how the culture of Bangladesh has mixed elements from various religious tribes. The culture created through this mixing of elements available in Bangladesh can be called "Bangladeshi culture".
Rural and Urban Culture of Bangladesh
There are both villages and towns in Bangladesh. Once, Bangladesh used to be a large village. Agriculture was the main source of our economy. Rural farmers used to harvest crops in their fields. At a stage, there grew up towns but the influence of villages was traceable in these towns. Later on, changes started to take place. Large cities and their inhabitants started to grow. It grew hard to depend only on agriculture. Therefore, people started setting up industries. Production of commodities began. Employment in these industries also led more people to become inhabitants of towns. Towns became hubs of trade and commerce. Thus, the life of city people grew different from that of the rural areas. However, they did not get alienated from each other.
Rural Culture of Bangladesh
The previous lesson states that whatever people do and think belongs to their culture. Rural people are engaged in various professions. Their behavioural pattern, creativity, roles, etc. determine the rural culture. Some mentionable professionals and artisans of village areas are farmers, fishermen, blacksmiths, potters, boatmen, tailors, village doctors, snake charmers, exorcists, teachers, businessmen, imams and other clergymen.
The rural culture of Bangladesh can be divided into two patterns:
socio-economic life based,
festivals and recreational patterns.
Culture Oriented with Socio-economic Life
Rural life is chiefly oriented toward agriculture. Some people have their own fields. They run their lives consuming their harvest and selling the surplus in the market. Those who do not own fields, earn their livelihood working in others' fields. Their lives are also agriculture-oriented. Earlier, people used to plough their lands with cows. Irrigation used to be done manually.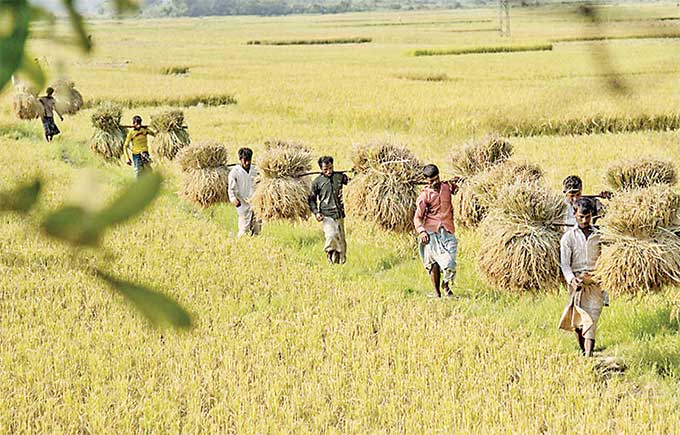 Nowadays, besides cows and plough, there are tractors and power tillers to plough the lands. Shallow machines are there to irrigate lands. These developments are increasing communication with towns and cities and urban culture is gaining influence on rural culture. Even a few years back, the saying was, that Bangalees are fond of fish and rice. Granaries were full of MA paddy. Labourers used to get their share from it in Farmers cutting paddy in exchange for their labour. Rivers, streams, bogs and ponds used to abound in fish. A net was enough to catch and meet the daily demand for fish. Now, most of these rivers and streams have filled up. Residues of insecticides and chemical fertilizers from fields are getting mixed with water and killing small fries and spoiling eggs of fishes. As a result, fish is no more available in villages. Yet villagers try to live on fish, rice vegetables, pulses etc. according to their ability. Homemade cakes and pies are prepared for consumption. Many villagers cultivate vegetables and meeting their own needs, sell the surplus.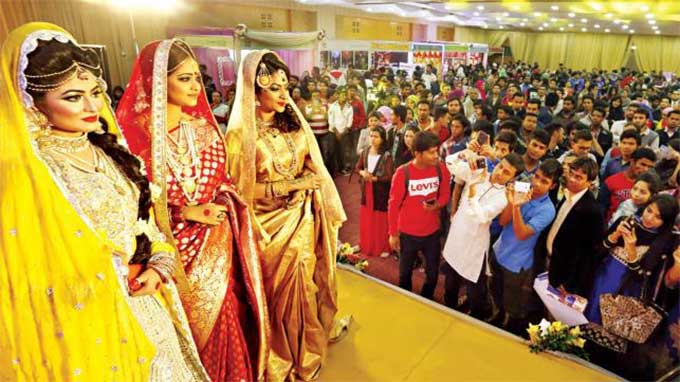 Once, villagers used to wear simple dresses. Males used to work in their fields with lungis only or at best vests or fotuas on top. Their clothes at festivals were pajama-panjabi or shirts. Females generally used to wear cotton saris. Now, the urban influence has brought certain changes. Adolescents and young males wear pants and shirts besides shirts and lungis. Females use frocks and shalwar-kameez besides saris.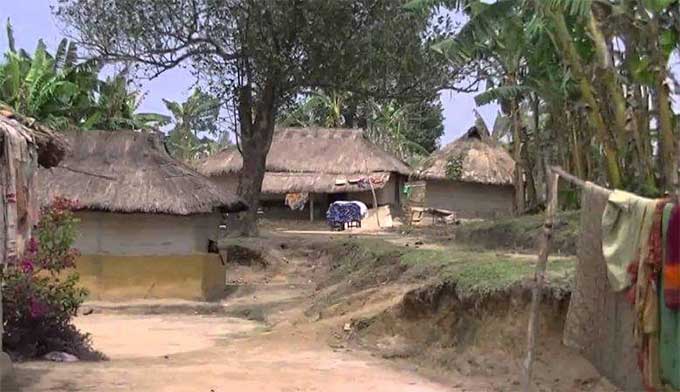 In accordance with regional availability of raw materials, villagers earlier used to live in clay huts, or houses made of wood, and bamboo with tall grass roofing. Now thatched tin roofing and brick buildings are also available. Once the villagers used to move on foot for communication. In some areas, there were bullock carts. The boat was the communication means during the monsoon. Now that roads have been constructed, rickshaws and motor vehicles ply them. Boats now are modified with engines. The majority of the population in Bangladesh is Muslims. They are followed by the Hindus, Buddhists and Christians. In rural areas, they observe their respective religion and live in harmony.
Festivals and Recreation
The village people of our country have been observing different kinds of festivals for ages. People of all religions participate in some of them and some are of a particular religion.
The core element of all Bangladeshi festivals is home decoration. Home is where the celebration starts from. Colourful arts, different lights and fresh flowers— you cannot think of a Bangladeshi festive arrangement without these things.
Boisakhi Mela (a fair in April), Nobanno (a festival after the late autumn harvest), Haalkhata (Opening of new accounts book) of business people, boat race, marriage ceremonies etc. are participated by all people. Earlier, special arrangements for nightlong Jatra (opera), Pala Gaan, Kobi Gaan (poetry with rhythm) etc. were made in rural areas as means of recreation. Although the Boat race is not lost yet, they are not that frequent now.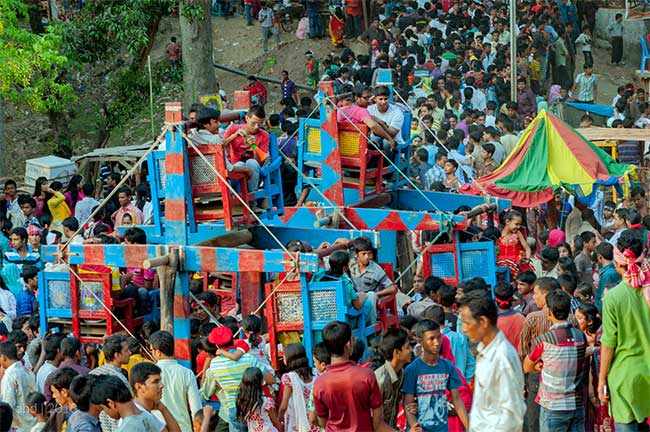 The Muslims observe Eid-ul Fitr and Eid-ul-Azha as their main festivals. Besides, Shob-e-Barat, and Eid-e-Miladunnabi, are added with some festive spirit.
The Hindus celebrate various pujas (worshipping) like Durga puja, Laxmi puja, Kali puja, Swaraswati puja, Dol Purnima, Raash, and Roth Jatra (charioting) etc. There are also many rituals among the Hindus.
The Buddhists celebrate various festivals including Buddha Purnima.
Similarly, the Christians observe Christmas alongside other customs of their religion.
Urban Culture of Bangladesh
The urban culture of Bangladesh can also be divided into two patterns:
socio-economic life-based,
festivals and recreational based.
Socio-economic Life-based In many respects, urban culture is different from rural culture. Rural people care about their neighbours. They get together at festivals and other programmes. That is why the social bond of an Urban view in villages is strong. Compared to this, social life in towns is limited. There may not be that much communication even among the dwellers of the same building. Urban children grow up in their respective homes or flats. It is very tough to find an open field in towns. Children do not get the opportunity or place to play or runabout. Urban people remain busy with their professions. Some mentionable professions of towns are service, teaching, medical, business, running industries etc. At present, garments factories have been set up in big cities. Males and females of villages migrate to the cities taking jobs in these factories. Some of these rural people also become rickshaw pullers, van drivers or pushcart peddlers or coolies and day labourers. Some features of rural culture are accompanying them and influence urban culture. Similarly, urban culture is also affecting rural culture. Although urban people generally eat rice, fish, meat etc. there is also some distinction. They visit fast food shops; they eat a sandwich, burgers etc. The dress pattern of the urban areas is spectacular. Urban males and females wear various kinds of dresses for both home and foreign origins.
Festivals and Recreation
Like the rural people, the urbanites also observe religious festivals. Apart from them, some festivals get a different colour in urban areas. Pohela Boisakh (Bangla New Year) and Pohela Falgun (Opening of Spring) in the city areas have special colours and splendour. Nowadays, even the Ekushe Boi Mela (Book Fair of February) is observed like a festival. Witnessing stage play is also a popular recreation among the urbanites besides watching television and The Mongal procession of Boisakh cinema.
Folk Culture of Bangladesh and its Different Elements
The culture that has been followed and maintained by the common people through the ages is generally known as folk culture. There are many elements of folk culture. Following is a discussion on the folk culture of Bangladesh and its elements. Concept of Folk Culture, by the term folk culture, we understand the culture of common people as well as their society or the culture of folk society. Folk culture has its origin in the mouth of people, in their thoughts and activities. This culture has transcended from generation to generation People have been maintaining folk culture from the ancient age. Since it is basically an oral tradition, it has undergone some changes in accordance with time. The culture started in the agrarian rural society. Various strains have originated in folk culture from various perspectives.
Out of Fear: Fear of ghosts is an old presence in folk life. Although there is no scientific base on ghosts, the fear of ghosts is deeply rooted in folk society. The idea of ghosts originated from the belief, "Though people die, their soul is immortal". People believe in it and they also believe that many souls roam about the earth even after the death of their mortal body. The wicked souls turn into ghosts and scare people. Thus people imagine different kinds of ghosts like mamdo bhoot, pechapechi, shakchunni, petni etc. Folk culture also imagines some remedial traditions for these ghosts like jharfuk (exorcizing), holud pora (incense of turmeric), marich pora (incense of pepper) etc.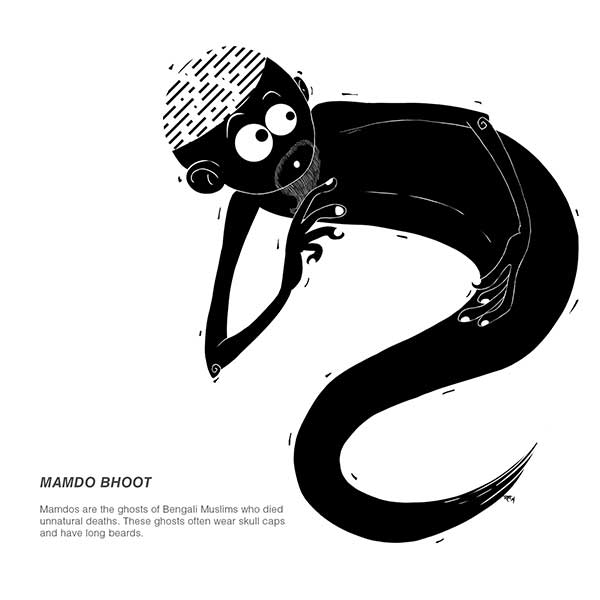 Gaye Holud (Saffron Ceremony): Gaye holud is a mentionable part of our culture. Different kinds of functions are observed centring Gaye holud. For example, everybody except the widows and barren ladies is permitted to smear turmeric on the bride-to-be in this programme. The reason behind this is these ladies may render the new bride ill-fate.
To Remedy Diseases: Expecting to get rid of sufferings from diseases the Hindus visit purohit and the Muslims visit peers or moulavis. They take special pendants and lockets. They wear them on their arms, neck and waist.
To be saved from a Bad Omen: The folk belief is that a wrong eye can curse a person. This is generally called the ominous eye. To be saved from this, it is customary to draw a tip (a small circle of kohl) on the side of the forehead of a baby.
To invite Rain: Farmers become tense during a time of a prolonged drought. They grow afraid that the situation will harm their crop. Rural females observe a rite at these times. They carry a kula house to house, singing or reciting odes to rain. The females of these houses pour water on the kula with the hope that rain will pour down from the sky.
Elements of Folk Culture
Subjects that have a touch of folk culture are known as elements of folk culture. Usually, these elements are of two kinds: materialistic elements and spiritual elements.
Materialistic Elements: The elements of folk culture that have shapes, and can be held or touched belong to this kind. For example Weaving, shell-craft, bell metal-craft, clay-craft, cane-craft, nokshi Katha etc. Spinning wheel, plough, scythes etc. Boat, Palanquin etc. Apart from these, there are folk games, folk utensils, folk instruments, folk food, folk medicine, folk ornaments etc.
 Non-materialistic Elements: Cultural elements that cannot be held or touched are born in the minds of folk people and are maintained and spread orally, they belong to this kind. The main element of this group is literature. This kind of literature is not written down. People have endeared them in their hearts. This kind of literature is also known as folklore. Some examples of this kind are folk tales (Kissa), folk songs, proverbs and sayings, lullabies, Khona's sayings, riddles, folk operas etc.
Besides, there are folk festivals and spells belonging to this group.
Small Ethnic Groups
There are a number of ethnic minorities living in Bangladesh. Their rites and customs, food habits, dress, and festivals differ to some extent from that of Bangalees.
Habitats of Ethnic Groups
A number of ethnic groups reside here in Bangladesh. Most of them live in the Chittagong Hill Tracts. These groups include Chakma, Marma, Tripura, Byom, Khumi and many others.
Garns and Hajongs live in greater Mymensingh. The Khasias and Monipuris live in Sylhet area. The Santals and Orans are there in North Bengal, in the districts Chapainawabganj, Rajshahi, Rangpur, and Dinajpur. The Rakhains hail from Cox'sbazar and Patuakhali.
Cultures of Ethnic Groups
Each of these ethnic communities has its unique culture. Below is an introduction to these: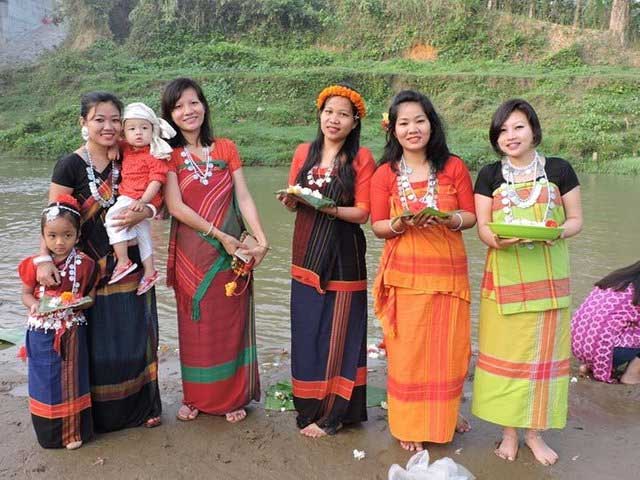 Religion: The ethnic minorities were once worshippers of nature. This devotion and dedication are still there among them to a large extent. They believe, man is subservient to nature, not vice-versa. That is why, nature and the necessity to preserve it are ever present in all their rituals, customs, social rites and everyday life. But gradually, they came in touch with the colonists and grew habituated with the modem urban state. Religions, beliefs, customs and rituals education and culture of modem civilization started to have an impact upon their lives. Many groups have accepted new religions, e.g. Chakmas, Marmas, Rakhains and many others have resorted to Buddhism. The Garos, Santals, Orans and others have accepted Christianity. Therefore, now nature has been substituted by the supernatural. But all these groups still continue to revere nature in their spirit of life. For example, each clan in an ethnic minority bears a symbol of identity which is usually various elements like trees, animals and birds.
Festivities: A common major feature of festivities among ethnic minorities is the prevalence of dance and songs. Dance tribute to Radha-Krisna is the favourite among the Monipuris. They call it the Gopi Dance. They observe Holi during the spring with due splendour. Oran new year starts in Falgun month. They observe Fagua welcome the new year. The Santals observe Sohrai, Baha, Paska Porob etc. with festivities. All ethnic groups in the hill tracts observe Boisakhi, Sangrai and Biju together at a stretch and they call it Boisabi. The Marmas and Rakhains celebrate Jal Uthsob (Water festival) with due glamour during the new year. It must be mentioned that most of the festivals of these ethnic people are still related to the harvesting season.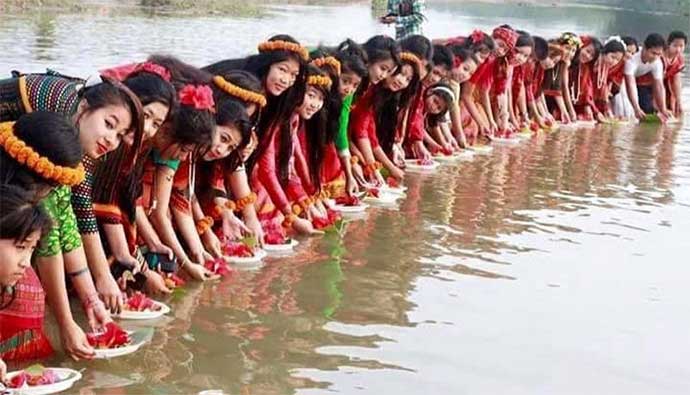 Common Beliefs: Very much like the other ethnic groups of the world, the small ethnic groups of our country also hold some collective beliefs among them. For example, a full moon and the dark phase have special significance among the Monipuri and other Buddhist groups. They celebrate the full moon with religious and cultural rites. These groups also conform to various prejudices. For example, the Orans do not construct houses or do the roofing during the month of Poush. The Garns never sweep the house and throw trash away at night from the same belief. The Barmans tell us to abstain from eating radish during the month of Magh. The Khiangs prescribe warming their hands on fire a bit before touching a neo-natal; otherwise, they believe misfortune may come for the baby.
Marriage: Though most ethnic minorities give freedom to the aspirants to choose their own life partner, they also require them to be recognized by the family and society. Customarily most of them forbid marriage within the clan. Besides the difference in the rites of marriage, they also bear diverse beliefs and attitudes regarding marriage. Weddings, as well as marriage proposals, are forbidden in the month of July among the Pangkheyas for fear of misfortune. Mahato abstains from marriage in the month of Agrahayon. Garns and Khashias are maternal societies. As the youngest daughter is entitled to inherit all properties of her mother the husband of this daughter has to live compulsorily with his in-laws' family.
Dress and Ornaments: Most ethnic minorities weave their own clothes. The Chakma males mainly wear shirts and lungi. The lower parts of their female dress are known as 'Pinon' which generally has a prevalence ofred and black colours. They wear a special kind of blouse as the top. The dress of Marma females is known as 'Thami', Orans wear dhoti and shirt. Many minorities adorn themselves with various ornaments. Chakma females use bangles, necklaces and earrings. Santal and Oran females put on ornaments on their hands, neck, ears and fingers or legs. From ancient times, the Oran ornaments are Kankhuli ( on ear lobes), Tipar Pata (on the upper portion of ears), Nolok (on the nose), and Nakchona (flower motif on the nose), Hashuli ( on the neck) etc. Garo females put on traditional costumes like Dokmanda, Doksarees etc. and use ornaments like Khokanil, Rikmachu, Penota etc. Other minorities also have their special ornaments.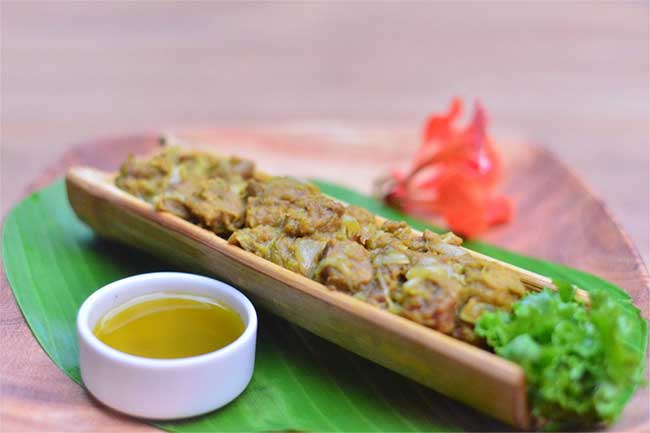 Food and Drinks: Many ethnic minorities believe some animals as a symbol of their clans. This belief is known as Totem. Generally, a totem is forbidden as food to a particular tribe. The Monipuri group has a traditional ban on meat and narcotic drinks. Their menu during religious festivals also forbids fish. Each ethnic group has one or more favourite foods. The Garns are fond of 'Nakham' (dried fish). Fondness for homemade cakes and pies is so prominent among the Orans that they observe special programmes on Poush Sankranti and 13th of Bhadro only to eat cakes and pies. Nappi or Sindol (a special recipe with dried shrimp or small fries) is highly popular among the groups living in Chittagong hilly districts. A kind of drink prepared from fermented rice is also a regular feature among all the tribes. Here is a short description of Bangladeshi Culture.
Hope you have got ideas about the people of Bangladesh with their culture.  Thanks for reading, don't forget to share your thoughts about this.
Was this article helpful?