Xi Admission has been has started. If you have passed the SSC examination, It is high time to know the procedure of Xi Admission system. In Bangladesh, after passing SSC examination, the students has to take admission in College. It is also known as college admission system. In this article, We have discussed about the college admission procedure, when the college admission starts and how to apply. By following this article, you will be able to apply for college admission. Lets Check the article
XI class admission (2023-24)
Very recently students have got their SSC result 2023. Now its time to get admit themselves for Intermediate studies. In this phase the public exam is known as the Higher Secondary School Certificate. In the previous period to get admission to a college or in class XI students had to go through admission tests or they had to buy admission forms from several colleges. In the last 4 years the application system of XI class admission has been changed. Now they don't need to bother to buy a number of application forms from numerous colleges. They can now apply for a maximum of 10 colleges in a glance. Also, now candidates can apply from home via online or mobile SMS.
When XI class admission circular (2023-24) will publish?
SSC exam result just has been published some days ago. Now all the students are eagerly waiting to know when the xi-class admission circular will publish of session 2023-24. All we know that this year the SSC result has published in a little bit late. There is no other reason of this delay. It is only for this vulnerable COVID-19 situation. As the education ministry published the result but on this alarming situation, they yet not clear when they can start the admission process.
Hopefully in the middle week of this month they will proceed for the xi-class admission program. As we know there is no admission test for HSC college admission. But some reputed college arrange for admission test program. So if you are interested for these colleges then you should use this time for preparing yourself.
College admission circular (2023-24)
College admission circular 2023-24 usually publishes on the official website of the education ministry. After publishing the college admission circular 2023 the admission process will start. Applying for college admission is now an easy process. If you are a candidate for college admission of this year then go through the full process. The college admission circular will be published very soon. We will update it in a meanwhile it published on the official website.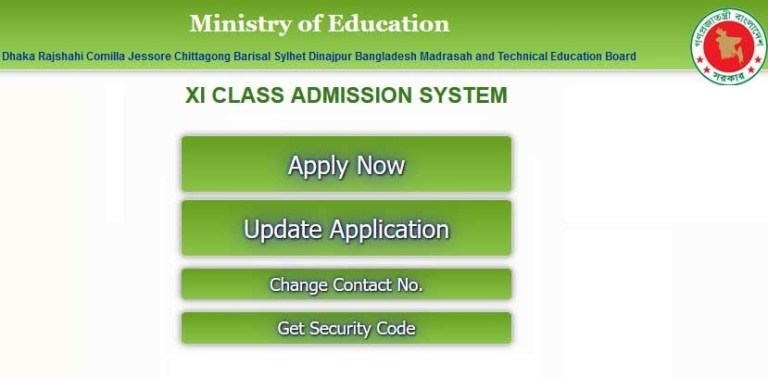 Important date and notice of xi admission 2023
Application start: 9th August 2023
Application ends: 20th August 2023
Admission Result published: 25th August 2023
1st step admission process date: 25th-30th August 2023
Result published of 1st migration: 4th September 2023
2nd step admission process date: 31st August-02nd September 2023
2nd Step result published date: 4th September 2023
2nd migration result published date: 10th September 2023
3rd step admission process date: 7th-12th September 2023
3rd Step result published date: 10th September 2023
The final result according to college choice: 13th September 2023
Class start: Yet not decide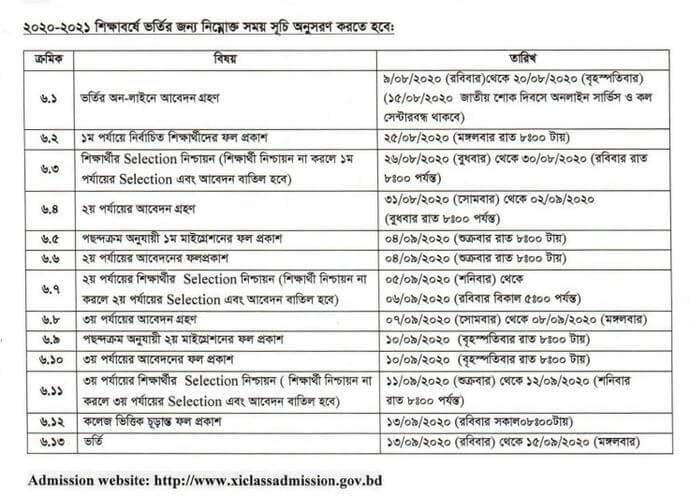 Qualification of college admission 2022
If you are willing to get admitting into XI class for further higher study read this portion.
Candidates those who have passed SSC or equivalent exam in 2018, 2019, 2023 from any of the education boards.  
Candidates from Bangladesh Open University are eligible to get admit up to 22 years. They also have to pass SSC or equivalent exam in 2017, 2018, 2019.
The candidates who passes from abroad or any other institution they will be eligible after setting the standard of certificate from Board of Intermediate and Secondary Education, Dhaka.  
Candidates are eligible to choose minimum 05 colleges and maximum 10 colleges.
Candidates who have passed from science group they can choose any one from Science, Humanities, and Business Studies.
Those are from Business Studies and Humanities group they both can choose Humanities or Business Studies group.
Xi class admission system session 2023-24
No admission test is required. The eligible candidates will be selected based on their SSC or equivalent exam results.
N.B. Notre Dame College, Holy Cross College, and Saint Joseph College. Still, this college has an admission test system.
Candidates have to apply before deadline.
If any students miss the deadline, he/she cannot be able to admit later. 
Candidates who have achieved equivale GPA their total marks will decide their merit position.
In that case for science groups student's general math and higher math's marks take for granted. Then gradually English, physics, and chemistry's marks will count.
For Humanities and Business Studies students English, General Math and Bangla these three subjects' marks take for granted.
But rather of all these instructions if any institution want than they can set their own criteria. In that case they have to notify all information on their website.
How to apply for XI class admission 2022
To admit for XI class candidates can apply by two way. First one is through online and the second is SMS. 150 BDT will be charged as for online application fee. If anyone applies via Mobile SMS than he/she will be charged 12 BDT as for application fee. In both ways, a candidate can choose a maximum of 10 colleges. Now let's see How to apply for XI class admission 2023.
Xi class admission 2022 by online
The online application system for XI class admission has been starting for three years. To apply through online candidates, have to pay their application fees first. They have to apply through the official website. The official website address: www.xiclassadmission.gov.bd. Candidates can apply from this site. It's time to go through the full process:
Browse www.xiclassadmission.gov.bd
Can see the apply now button on the screen
Click on the apply online button
Enter with your SSC or equivalent roll no
Gradually the Education Board, Passing Year and Registration No
After giving all accurate data candidate will see his grade point details on the screen
Give your contact number
If you are eligible for quota allowance than select the quota
Now the select the desired college name, group (science, humanities, business studies), shift (morning, day, evening) and version (Bangla, English)
You can choose a maximum of 10 colleges.
A student will get the chance to change the college choice for five times.
Now again check the information before submission, to check click on the preview button
After checking click on the submit button.
You will receive a confirmation message with a security code.
For further use and security issue download the form copy
You can print it for further using
Xi class admission 2022 by SMS
The students who are not friendly with the online system they can apply via mobile SMS. If you want to apply via SMS than you have to use TeleTalk prepaid sim card. To apply via SMS, you will be charged 120 BDT/college for the admission fee. So before applying to ensure the mobile balance.  One applicant has to send two messages. One is for the application and the other is for payment. So, at first, go through the application system. See the full process of Xi class admission 2023 by SMS
Go to the mobile message option
First type 'CAD', space
Give the college EIIN No
Then the first 02 letters of your group
Education board code of SSC or equivalent
Give your SSC roll no
passing year of SSC or equivalent
now give your SSC registration no.
Now provide shift, if there is no shift write Shift N
Now type B/E as code for version B for Bangla and E for English
Then put quota code if you are applicable for quota
Send it to 16222
See the SMS format in a glance
Board code for XI Class admission 
Dhaka Board: DHA
Comilla Board: COM
Rajshahi Board: RAJ
Jessore Board: JES
Chittagong Board: CHI
Barisal Board: BAR
Sylhet Board: SYL
Dinajpur Board: DIN
Mymensingh Board: MYM
Madrasah Board: MAD
Technical Board: TEC
Bangladesh Open University: BOU
College EIIN No
To see the college EIIN No according to your district and education board click here
Quota Code for XI admission
Freedom Fighter Quota: FFQ
Employee Child of Desired College or Education Ministry- EQ
Special Quota: SQ (declared by the board)
Probashi Quota: PQ
Quota Percentage: Out of divisional area 3% Freedom Fighter Quota 5% Ministry of Education 2%
Group code
Group subject code for General education board
Science: SC
Humanities: HU
Business Studies: BS
Home Science: HS
Islamic Studies: IS
Music: MC
For Madrasah Board group code are following
General: GE
Science: SC
Muzabbid: MU
Shift code
Morning: M
Day: D
Evening: E
If the applied school have not to shift write "N"
Version code
XI class admission 2022 payment method
For XI class admission one candidate can pay through different payment media. The intermediate admission authority allows different payment apps for paying application fees. Like TeleTalk, Bkash, SureCash, Rocket. Each of them follows their distinct ways. Follow the instructions
Payment through teletalk bd for college admission
Using TeleTalk prepaid sim card candidates can pay admission fees. Candidates who are applying on online they have to pay 150 BDT. Meanwhile, those who have applied via SMS have to pay 120 BDT for each college. Now just check the payment method through teletalk bd for college admission.
Payment for online application
First, we mentioning the payment method for the online application system.
Make sure for the online application you have to pay first
To pay first go to the message option
Type 'CAD'
Then type 'WEB'
Gradually give your education board code, SSC roll no, passing year
Send it to 16222
In the recipient message, they will receive a Pin No along with all information
Then to pay the fees candidates have to send an affirmation message
For this again type 'CAD'
Then 'YES'
Give your Pin No (received in the previous message) with Contact Number
Send it to 16222.
See both SMS format
Payment for via SMS application system
After completing the SMS mentioning on the upper part follow the below instruction to pay the application fees. In a recipient message, candidate will receive an affirmation message with Pin No. In this message there will be mentioned the applicant's name, passing year, education board, roll no with deduction of 12 BDT with this message.  If you are agreeing with the term & condition then you may proceed with their following instruction.
SureCash payment method xi admission
To pay the application fee for XI admission through SureCash mobile banking system follow the below instruction.
First go to SureCash USSD menu
Dial *495# to get the menu
Select the payment option
Then type payee account/keyword: CAD
Give your Student ID
For student ID follow this: <board code><passing year><roll no>
Give your mobile contact no
Candidate can see his/her name with the according amount (150 BDT) on screen
Finally give your SureCash Pin No.
You have successfully finished your payment
Finally, you will receive a confirmation message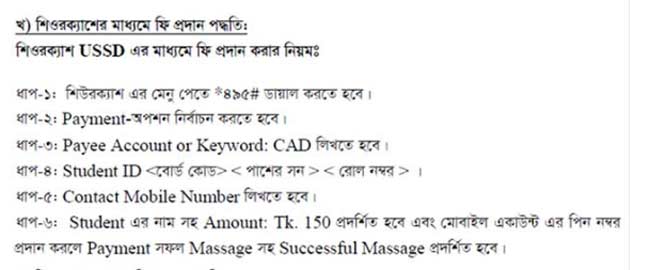 XI admission payment by BKash
Are you willing to pay your XI admission fee on Bkash? Follow this instruction than
First select 'pay bill' option from Bkash app.
If you are not an app user then dial *247#
Go to the pay bill option
Now select 'XI class admission' from the biller list
Give your payment code. Payment code: <board code><passing year><roll no> (without any space)
Then proceed for next option
On next step put your Bkash Pin no
Now tap on the button for while
Please wait for sometime
You will receive a confirmation message
Your payment for XI admission is completed
Rocket payment system for xi class admission
Candidates can also pay their XI admission application fee through Rocket account. Don't you know the process? Now follow the below instruction:
Dial *322# and follow below instruction
Press '1' to Bill Pay
Dial '1' for own account and select 'Self' option
For others account dial '2' and select 'other'
Press 'enter'
Give applicants' mobile number in place of Payer Mobile No
Now type 515 on biller field
Press 'answer'
Put applicants' education board, passing year, roll no in biller field option
Again press 'answer' and type 150 on the amount field
Press answer and give your Rocket Accounts' PIN No.
After a successful payment recipient will get a payment confirmation message from 16216 number.
Don't forget to save the Transaction ID from the confirmation message.  
XI class admission fee
XI class admission fees differ for different locations. Here is the list of XI class admission fee according to the location
Colleges placed on Upazila- 1000 Tk.
Colleges placed on Zilla Sadar- 2000 Tk.
Colleges placed on Metropolitan Area- 3000 Tk (Except Dhaka)
Colleges placed on Dhaka Metropolitan- 5000 Tk. (MPO educational institution.)
Colleges placed on Dhaka Metropolitan (Bangla Version)- 9000 Tk. (Partial MPO, Non-MPO)
Colleges placed on Dhaka Metropolitan (English Version)- 10,000 Tk. (Partial MPO, Non-MPO)
After primary selection candidates have to pay the following fees during their admission
Registration fee: 130/-
Sports fee: 30/-
Rover/Ranger Fee: 15/-
Red Crescent Fee (40% of 20 Tk): 8/-
Science and Technology Fee: 7/-
BNCC Fee: 5/-
Total: 195/-
If any candidate has any study gap or delays admission issue they have to the following fees extra
Study gap fee: 150/-
Delay admission: 150/-
XI Class admission result
XI class admission circular has recently been published. In the below download link you will get the full xi class admission circular with all terms and conditions. After starting the admission process students are mostly be anxious to know the time about publishing the result. The xi class admission final result will come out passing by several phases. To know more about XI Admission result 2023-21 read this…
Download XI class admission circular 2023-24
You guys can also recheck the full circular published The Board of Intermediate and Secondary Education. Here is the download link. Feel free to download the circular.
When will HSC Admission 2022 Start?

HSC admission process will be start from 24th June approximately.

How Many Colleges one Can Apply To?

One candidate can apply maximum for 10 colleges and minimum at 05 colleges.

When will HSC Admission application 2022 Start?

HSC admission application may start from 6th June.

How can I apply for HSC Admission?

In two ways you can apply for HSC admission. You can apply online or via SMS.

When the XI classes will be started?

Due to this vulnerable situation this is not decides yet.
That's all about HSC College admission 2023. For any asking feel free to comment. If this article is helpful then share it.
Was this article helpful?