Hey there, are you SSC Examinee? Looking for the SSC Routine 2021? If the answer is Yes, then you are in the right place. Here we have provided all boards SSC Routine 2021 with the detailed timing. Hope it will be helpful.
SSC Exam 2021
According to the Education ministry and Bangladesh Education Board authority, the exam may begin on the first week of November, 2021, and it will continue till the middle of November 2021. After the end of the theoretical Exam, the practical exam will be held.
SSC Exam 2022 Subject list
As for COVID-19 situation school, colleges remain closed for past one and half years so candidates of SSC Exam 2022 can't do their usual studies. In that case, the Education Ministry decided to take the exam on some major group subjects. The exam is going to be started on 14th November. The subjects are following
Subjects of science group:
Physics
Chemistry
Biology
Higher math
Subjects of Business Studies Group:
Accounting
Finance and Banking
Business Entrepreneurship
Subjects of Humanities Group:
Civics
Geography and Environment
Economics
Other subjects for all:
Physical Education, Health Science and Games
Bangladesh History and World Civilization
When will publish SSC Exam Routine 2021?
As we all know due to the COVID-19 situation educational institutes are closed since last year. The pandemic situation is getting worse day by day that's why the authority is unable to take any concrete decisions. Education Minister, Dr. Dipu Moni declared that if the current COVID situation going to be better than SSC Exam 2021 may be held on the 14th of November 2021.
So now all you can guess is the SSC Exam Routine 2021 may get published between this time. As it has been declared this year the exam will be held on three group subjects only. And it will be in the MCQ system. So, it will be better if you start taking preparation for SSC Exam 2021. Below SSC Routine 2021 is provided details
SSC Practical Exam Routine 2021
According to the Bangladesh Education Board's announcement, the practical exam can be completed between the last week of November 2021. They don't specify the specific exam date. The exam date will be fixed by the corresponding Exam center. The detailed practical exam routine will be found on their notice board. After the exam, it is recommended to check their notice board and communicate with your school.
SSC Exam routine 2021 PDF Download
PDF and Image are the best ways to save any routine in portable document format and Image format. SSC Routine 2021 can be saved in these two formats of routine. This format can be printed if you wish. From the below download box, you can download the routine.
SSC Routine 2021 Dhaka Board
Board of Intermediate and Secondary Education, Dhaka is situated in Bakshi Bazar, Dhaka. dhakaeducationboard.gov.bd is the official website link of the board. It was established before the liberation war of Bangladesh. It is the largest education board. It combines all boards' SSC routines. SSC routine 2021 was first published on its official website. Dhaka Board SSC Exam routine 2021 is also available on their official website. As we already mention the web address you can collect the routine from there also.
SSC Routine 2021 Barisal Board
The journey of the Barisal Education Board started in 1999. From that time, this organization is responsible for the arranging SSC exam and other public examinations. The official website link is barisalboard.gov.bd. Students of the Barisal education Board will take part in the Exam under the control of this Board. You can also download the SSC Exam Routine 2021 of Barisal Board from the official website.
Chittagong Board SSC Routine Download
Are you searching about the Chittagong Board SSC examination routine 2021 to download? You may know that; all education boards' SSC routine is the same. We have provided the SSC routine with PDF and image versions of the above. This education Board is situated in the Muradpur, Chittagong Board. Previously Chittagong Region is under the Comilla Board. Chittagong Education board was established in 1996.
SSC Examination Routine 2021 Dinajpur Board
Dinajpur Education Board controls the Dinajpur area of students. It organizes, holds, and manages the SSC Exam. Like other years, the Secondary and higher secondary education Board Dinajpur organize SSC Exam 2021. The details notices are available on the Dinajpur Board official website which is dinajpurboard.gov.bd. You can download the Dinajpur Board SSC Exam Routine 2021 from here.
Sylhet Education Board SSC Routine Download
Sylhet Education Board is the responsible organization for the four districts students' SSC Exam. Its journey starts in 1999. Public Examinations like SSC, HSC, and JSC are organized by the Sylhet Education Board. SSC Exam-related notices are available on sylhetboard.gov.bd. Also, SSC Exam Routine 2021 is available on this site.
Comilla Board SSC Exam Routine
One of the oldest Education Board of Bangladesh is Comilla Education Board. For the very first time, the Chittagong region is under the control of the Comilla Education Board. After the establishment of the Chittagong Board, the working area became shorter. Downloading the Comilla board SSC Routine of 2021 is the same as other board routines. Comilla board's official address is comillaboard.gov.bd. Some prominent institutions of the Comilla board are
Barkota School and College
Comilla Zilla School
Comilla Cadet College
Nawab Faizunnesa Government Girls' High School
Ispahani Public School & College, Comilla
Comilla Victoria Government College
Comilla Government College
Comilla Government Women's College
Ibne Taimiya School and College
Noakhali Zilla School
Comilla Modern High School
Government Laboratory High School, Kotbari-Comilla
Adhyapak Abdul Majid College
SSC Routine 2021 For Jessore Education Board
Jessore Education Board routine of SSC Exam 2021 is similar to the other board. Jessore Education Board holds three public examinations by the authorization of the Education Ministry. This education board is newly formed.  If you are SSC Examinee, then keep eye on the Jessore Education Board official website.
Rajshahi Board SSC Routine 2021
Rajshahi Education Board SSC Routine 2021 is important for the students of Rajshahi. As the routine is similar to the other education board, you need not think about it. You can download the above routine as the Rajshahi Board SSC routine. Further notices about the SSC exam, will be available on Rajshahi Board official website.
SSC Dakhil Exam Routine for Madrasah
Madrasah Education Board was established in 1979. From that time, it controls the education system of the Madrasah. It belongs to the science and humanities faculty. SSC Equivalent exam is known as Dakhil Exam in Bangladesh. Madrasah education board organized this exam in Bangladesh. The official address is bmeb.gov.bd. If you want to know details about the SSC Dakhil Exam routine 2021 you can visit the official website.
SSC Routine 2021 Technical Board
Bangladesh Technical Education Board is the authority of taking the SSC Vocational Exam 2021. BTEB sets the exam papers, syllabus, educational materials, etc. After the end of class 10, they also take combined education of SSC. Bangladesh Technical Education Board SSC routine has been published by the BTEB official website. The official website link is bteb.gov.bd. As for these years, no exams take place so for details visit the official website.
SSC Exam 2021 Marks Distribution
SSC Examination 2021 will be taken in the same rules before. Students have to take part in both the written and MCQ exams. Some of the Subject has practical Exam. A practical Exam will be taken after the main exam. The total marks for each subject are 100 which are divided into three portions.
But this year maybe only the MCQ exam will be held in SSC Exam 2021.
SSC Result Grading System
Bangladesh Education Ministry defines a grading system of Bangladesh Education Board. According to the grading system of Bangladesh, for a range of marks students will get a point. The points of all subjects will be added in total. Then the total marks will be divided into the subject number. The point will be known as Grade Point Average. GPA will be converted into a letter grade. The below table shows the GPA System of Bangladesh.
| | | |
| --- | --- | --- |
| Marks Range | Grade Points | Grade Letter |
| 80-100 | 4 | A+ |
| 70-79 | 3.75 | A |
| 60-69 | 3.5 | A- |
| 50-59 | 3.25 | B |
| 40-49 | 3 | C |
| 33-40 | 2.75 | D |
| 0-32 | | F |
Instruction for SSC Examinee 2021
Students have to present in the exam hall before 30 minutes of the Exam
Examination time will be mentioned in the Question paper
Written Exam and Objective Exam will be taken on time. There will be no break
Admit Card must be collected from the institution at least 3 days before of the Exam
A student has to pass individually both written and MCQ
General Fx 100 model Scientific calculator can be used in the exam hall
Mobile phone or any other electric device can't be used
 How to Form Fill Form for SSC Exam 2021
SSC Exam form fills up notice has been published by the respective authority. Though the form fills up responsibility is for the institutions, but students have to be aware of that. During the time of form fill up, we strongly recommend to keep yourself present in the school. The form fills update starts from November 7 to November 14, 2020. During this time, students and institutions have to fill the Form through institutions' IDs and passwords. The final candidate's list will have to submit. At that time, students need to sign their name on the form as well as Head of the institution will also sign on the paper.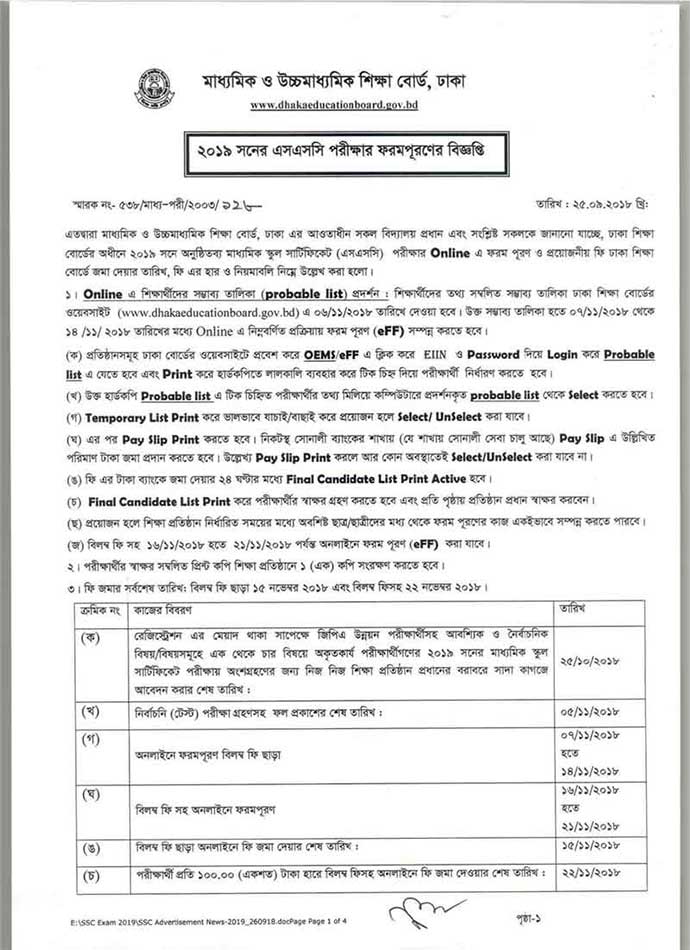 SSC Exam 2021 Registration Card Download
Normally after completing the SSC model test in all schools the school authority provides the SSC registration card to the students. In that case, if any students get fail on the SSC model test the authority doesn't give them the registration card. But as this year the authority yet not able to take this exam so maybe the registration card will give after publishing the SSC Exam routine 2021. Normally students can collect it from their school. To download the SSC Exam 2021 registration card they can visit the official website of the education board.
SSC Subjects list for all group
SSC Exam has been taken on different subjects. The exam subject will be mentioned on the admit card of the SSC Examinee. There are several subjects. While a student makes registration of SSC Exam in class nine, he can choose his subject. The list varies from group to group. A Science student has to choose the three science subjects compulsory, similarly students of Business Studies and Humanities. Here we have made a list of SSC Subjects list with their codes.
Compulsory SSC subject For All
There are seven subjects which are compulsory for all general education board students. Students of each group namely Science, Business Studies and Humanities have to read these subjects and take part in the SSC Exam on below subjects.
Bangla (Compulsory) 1st Paper
Bangla (Compulsory) 2nd Paper
English (Compulsory) 1st Paper
English (Compulsory) 2nd Paper
General Math
Information and Communication Technology (ICT)
Religious Studies

Christian Religion Studies
SSC Science Subjects
Science students have to study three compulsory subjects and one optional Subject. The optional subject can be chosen according to the student's demand. But compulsory subjects are a must to read.
The subjects are
Physics
Chemistry
Social Science
Higher Mathematics
Biology
Business Studies Subjects of SSC
Like Science students, there is some definite subject which has to read for the Business study group students. Below we have provided the subject list of Business Studies. These subjects are recommended for the students of Business Studies. Besides this subject, they can choose any other optional subjects.
Accounting
Finance and Banking
Introduction of Business
Business Entrepreneurship
General Science
Subject List SSC Humanities Students
Humanities group are popularly known as Arts group too. There are some common subjects between the Business studies group and the Humanities group. For instance, General Science has been read by both group's students. Agricultural Science can be chosen by two groups of students as optional. The subjects are
History
Civics
Geography and Environment
Economical Geography
Economics
Home Economics
Home Science
Agricultural Science
Other Subjects of SSC Exam
Besides these subjects, there are several subjects for different types of students. Like DIBS, Madrasah Board students read different subjects than general education Board students. They have more options to choose subjects. Subjects are
Easy Bangla
Bengali Language & Bangladesh Culture
Physical Education, Health Science and Games
Bangladesh History and World Civilization
Career Studies
introduction of Bangladesh and World
Geography and Environment
Economical Geography
Music
Arabic
Sanskrit
Computer Studies
Basic Trade
Fine Arts
SSC Subject list with Code
To appear in SSC Examination, you need subject codes. The below table provides all SSC all subjects code list of Bangladesh. We hope, this will be helpful for you.
| | |
| --- | --- |
| SSC Subject Name | SSC Exam Subject Code |
| Bangla (Compulsory) 1st Paper | 101 |
| Easy Bangla 1st Paper | 103 |
| Bengali Language & Bangladesh Culture 1st Paper | 105 |
| Bangla Compulsory 2nd Paper | 102 |
| Easy Bangla 2nd Paper | 104 |
| Bengali Language & Bangladesh Culture 2nd Paper | 106 |
| English Compulsory 1st Paper | 107 |
| English Compulsory 2nd Paper | 108 |
| Math Compulsory | 109 |
| Islamic Studies | 111 |
| Hindu Studies | 112 |
| Buddha Religion studies | 113 |
| Christian Religion Studies | 114 |
| Physical Education, Health Science, and Games | 147 |
| Physics | 136 |
| Bangladesh History and World Civilization | 153 |
| History | 139 |
| Finance and Banking | 152 |
| Introduction of Business | 142 |
| Chemistry | 137 |
| Civics | 140 |
| Business Entrepreneur | 143 |
| Information and Communication Technology | 154 |
| General Science | 127 |
| Higher Mathematics | 126 |
| Career Studies | 156 |
| Social Science | 145 |
| introduction of Bangladesh and World | 150 |
| Geography and Environment | 110 |
| Economical Geography | 144 |
| Biology | 138 |
| Economics | 141 |
| Bangla Language & Literature | 119 |
| English Language and Literature | 120 |
| Home Economics | 129 |
| Home Science | 151 |
| Agricultural Science | 134 |
| Music | 149 |
| Accounting | 146 |
This is all about SSC Routine 2021. If you are still confusions then please let us know through the comments box. Don't forget to share it with your friends. Sharing is caring.
Was this article helpful?