If you want to appear in JU Admission Test, it is important to have clear idea about Jahangirnagar University Subject List. It is one of the top residential public Universities in Bangladesh. You may know that, Jahangirnagar University mentioned the eligibility of the candidate according to subjects. So, JU Subject list will help you to choose the best subjects.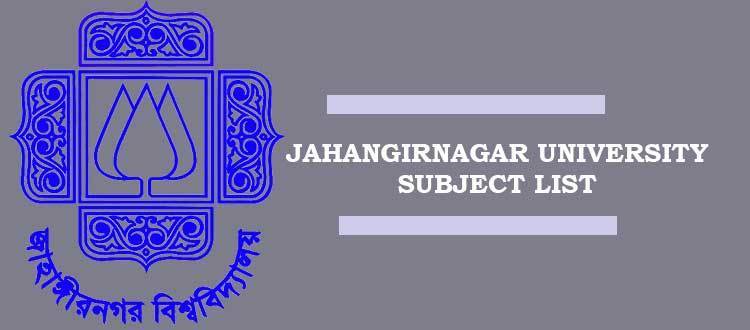 Faculties of Jahangirnagar University
The Jahangirnagar University is completed divided into 6 Faculties. Under these faculties there are different subjects. Besides these, there are 4 institutes. The Faculties are
Arts & Humanities Faculty
Math & Physical Science Faculty
Social Science Faculty
Biological Science Faculty
Business Studies Faculty
Law Faculty
The Institutes are
Business Administration Institutes
Remote Sensing and GIS Institute
Information Technology Institute
Bangabandhu Institute of Comparative Literature and Culture
Jahangirnagar University Subject List
For the easy management of admission test, all subjects of Jahangirnagar University are divided into 9 units. Each of the unit take admission test separately. Below we have provided the list of all subjects of Jahangirnagar University.
A Unit Subject List
Jahangirnagar University A unit is associated with the Faculty of Mathematical and Physical Studies. This unit's subjects are
Mathematics
Statistics
Chemistry
Physics
Geological Sciences
Computer Science and Engineering
Environmental Sciences
JU B Unit Subject List
Social Science Faculty managed the B Unit of Jahangirnagar University. There are total 6 subjects in this unit. The subjects are
Economics
Geography & Environment
Government & Politics
Anthropology
Urban & Regional Planning
Public Administration
C Unit Subject List
C Unit deals with faculty of Arts and Humanities. There is some demandable subject here. Like IR, Journalism and Philosophy are the top subjects in this unit. All the subjects of C Unit is given below.
Bangla
English
History
Philosophy
Archaeology
International Relations
Journalism and Media Studies
C1 Unit Subject List
You may know that, Jahangirnagar University is famous for the Fine arts and Drama. If you want to study in the fine parts then this unit is for you. There are two subjects in this unit. These are Drama & Dramatics, Fine Art
D Unit Subject List
D unit is full of different awesome subjects of life science. This unit is supervised the by Biological Science Faculty. There are seven most demanding subjects here. The subjects are
Botany
Zoology
Pharmacy
Biochemistry & Molecular Biology
Microbiology
Biotechnology & Genetic Engineering
Public Health and Informatics
E Unit Subject List
In this era, business is the most demandable one. The business administration faculty deals with the E Units. The E Unit's subjects are
Finance & Banking
Marketing
Accounting and Information Systems
Management Studies
F, G, I Unit Subject List
There is only one subject is available in F unit. The faculty name is Law Faculty. The subject is Law & Justice.  In G Unit and I Unit belongs to Information Technology and Comparative Literature subjects.  You may ask the question what are the subject of H Unit. H unit is for the students of IBA. The subjects are the same as E Unit.
This are all about the Jahangirnagar University Subject list. If you have any confusion or found any mistake let us know through comments. We are ready to help you.
Was this article helpful?