BTEB SSC Vocation Routine 2022 has recently been published. Bangladesh Technical Education Board BTEB is solely responsible for the publication of the SSC Routine. BTEB Vocational Routine is only for the student of BTEB. The exam will be taken place along with the General Education Board. If you are a candidate for SSC Vocational Exam, you are in the right place.
Bangladesh Technical Education Board has published the routine vocational exam on November 19, 2019. We have collected the routine from the BTEB official website. You can collect the routine from us or from the official websites.  Below we have provided the details of the routine.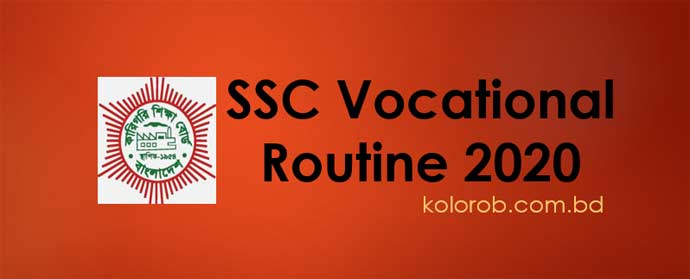 BTEB SSC Vocational Routine 2022 at a Glance
Exam Starts: February 01, 2022
Exam Ends: February 22, 2022
Practical Exam Ends: February 27, 2022
Total Exam Day: 12 Days
SSC Routine 2022 Vocational
As we have mentioned earlier, the SSC Vocation exam will start on February 01, 2022. We have added the soft version of the routine here. For your compatibility, we have also added the image version and pdf version below in this article. Hope it will be helpful for you.
Date
Subjects
01-02-2022
Bangla-2 (Creative and Old Syllabus)
04-02-2022
English -2 (Creative and Old Syllabus)
06-02-2022
Math -2 (Creative and Old Syllabus)
08-02-2022
Physics -2 (Creative)
10-02-2022
Chemistry -2 (Creative)
12-02-2022
Bangladesh and World-2 (Creative)
Quran Majid and Tajbid (Creative)
13-02-2022
Religion and Moral Stories
Hadis and Fiqh
15-02-2022
Business Entrepreneur
16-02-2022
Arabic-2
18-02-2022
Trade-1
20-02-2022
Trade-2
22-02-2022
Higher Mathematics, Agriculture Studies, Islamic History, Introduction to Bangladesh and World
SSC Vocational Routine 2022 PDF Download
We have added the BTEB SSC Vocation PDF Routine for you. Portable Document format routine is best for the printing purpose. Here we have added the Image version of BTEB Routine. You can choose whether Image version or PDF Version according to your demand.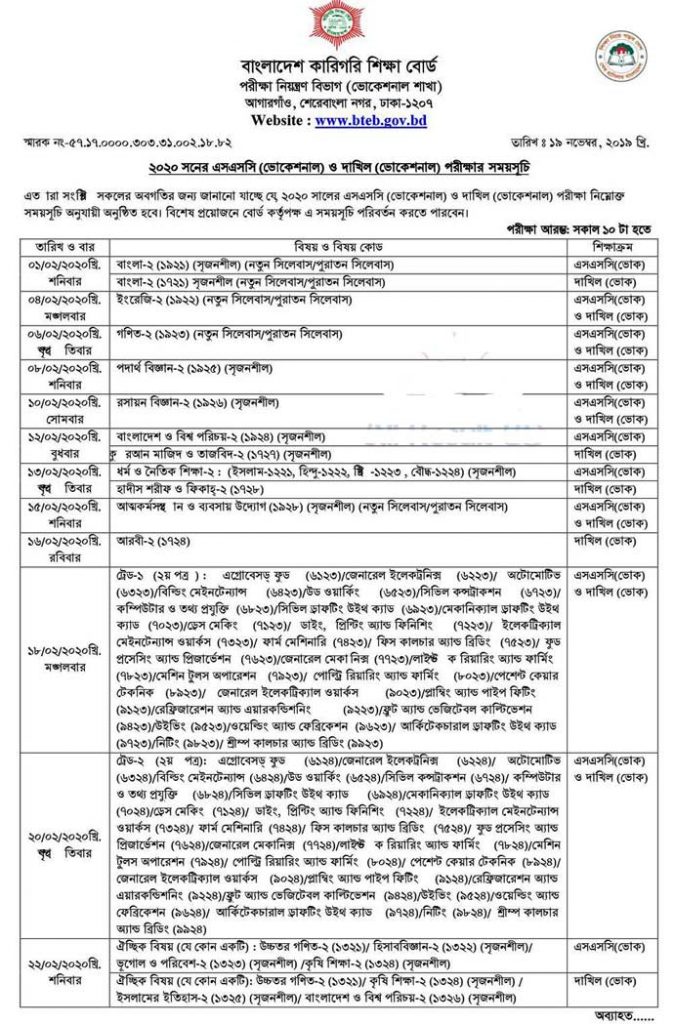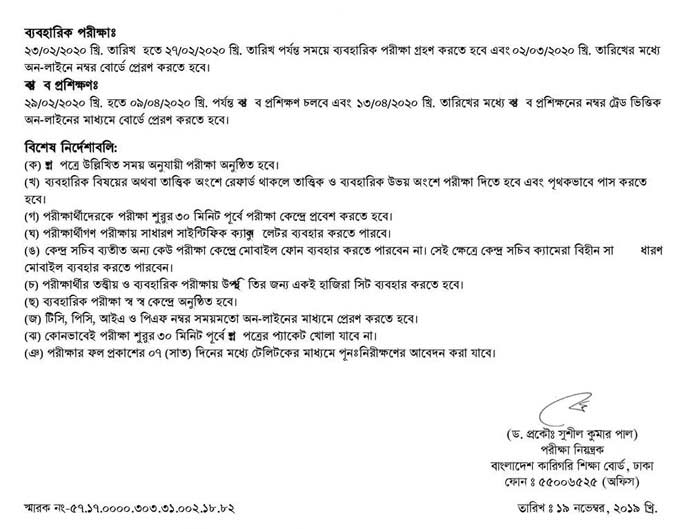 SSC Vocational Exam Routine Instruction
BTEB SSC Routine Special Instruction
The examination will be taken with the mentioned time in the Question paper
Candidates have to pass practical and written exam individually
Candidates have to enter the exam hall 30 minutes before the exam begins
Using a mobile phone is strictly prohibited
TC, PC, IO, PF number should have sent to the center
Re-Scrutiny can be done with in the 7 days
Vocational Trade Subjects
These are the subjects of Vocational Trade. There are two papers on all of these subjects. We have provided the list for your help
Agro-based Food,
General Electronics,
Automotive,
Building Maintainance,
Wood Working,
Civil Construction,
Computer and Infomation Technology,
Civil Drafting with CAD,
Mechanical Drafting with CAD,
Dress Making, Printing, and Finishing,
Electrical Maintainance Works,
Fish Culture and Breeding,
Food Processing and Preservation,
General Mechanical Works,
Light Rearing and Farming,
Machine and Tools Operation,
Poultry Rearing and Farming,
Patient Care Technic,
Machine Tools Operation,
Refrigeration and Airconditioning,
Fruit and Vegetable Cultivation,
Weaving, Welding, and Fabrication,
Architectural Drafting with CAD Neating,
Shrimp Culture and Breading
BTEB SSC Routine 2022 FAQ
When does the BTEB SSC Vocational Exam start?

Bangladesh Technical Education Board's Exam will start on February 1, 2022. The exam will start with Bangla -2 Exam. You can check the Vocation Routine of 2022.

When does the BTEB SSC Vocational Exam 2022 End?

BTEB SSC Vocation exam 2022 will end February 22, 2022

Is there any routine of SSC Vocation practical Examination?

Practical Examination will be taken after the written examination. According to the Bangladesh Technical Education Board's Instruction, the exam will be taken from February 23, 2022, to February 27, 2022.

When will the Vocational SSC Examination result publish?

According to the instruction, the result will be published within the two months of completing the vocation SSC Examination.

Is SSC routine 2022 and Vocational Routine 2022 is the same?

No, both are under the different education boards and different types of the education system. So the Vocational routine 2022 is different from the general education board routine.
BTEB SSC Vocational Routine 2022 may change if there are any political instability and natural hazard occurs. Due to the different religious festivals, Bangladesh Technical Board Authority can change the routine. If any change occurs, we will update the routine here. Keep in touch with us.
Was this article helpful?