Bangladesh Open University SSC exam routine 2020 or BOU SSC Routine 2020 has been published. Are you looking for the BOU SSC examination routine 2020? We, here, provide the details examination routine of Secondary School Certificate routine of BOU. BOU Stands for Bangladesh Open University. They take separate examination other than the General Education Board. General Education Board SSC Routine 2020has been published several months ago. We are here providing the latest BOU examination routine 2020.
According to the notice board of Bangladesh Open University, SSC examination of BOU will start on January 24, 2020. Though previous year BOU SSC exam 2019 started on February. Bangladesh Open University authority has taken the decision to take the examination this year earlier.


BOU SSC Routine 2020
Bangladesh Open University Authority has already published the routine. We all know that BOU takes examination on Friday and Saturday. In the year 2020, it is constant. The BOU SSC Examination starts on January 24, 2020, Which is Friday. There is a total of 10 subjects' exam will be held.
Here we have provided the basic overview of Examination routine
Examination Day: Friday, Saturday
The exam starts: January 24, 2020
Examination Ends: February 29, 2020
Examination Time: (9-12 AM) and (2-5 PM)
BOU SSC Routine 2020
Here are the details of the BOU SSC Examination Routine. You will get the written version of routine here. If you want to download the BOU SSC Examination routine in PDF format or Image format you can scroll below.
Date
Subject
(9 AM - 12 PM)
Subjects
(2 PM -5 PM)
24-01-2020
Bangla 1st ( 165, 160)
Bangla 2nd ( 265, 260)
25-01-2020
Geography & Environment (1660, 2660)
Geography (2604)
31-01-2020
English 1st (1652, 1602)
English 2nd ( 2602, 2652)
01-02-2020
Bangladesh History(2681)
Computer Studies(2610)
07-02-2020
Math (1653,1603)
Science(2673)
History(2603)
08-02-2020
Economics (2671, 2607)
14-02-2020
Islamic Studies (1654,1605)
Hindu Studies (1655,1606)
Chrisian Studies (1656,1607)
Buddhism(1657,1608)

Agricultural Science (2607, 2686)
Home science (2608, 2685)
15-02-2020
ICT (1370,2370)
28-02-2020
Bangladesh History(1659)
Business Enterpreneur(1663)
Physics(1667)
General Science (1604)
Finance and Banking (2676)
Biology (2679)
Civics(2672, 2606)
29-02-2020
Accounting (1664)
Chemistry (1668)
Book Keeping (2611)
Higher Math(2680, 2609)
BOU SSC Exam Routine 2020 Download
Here we have provided the BOU SSC routine 2020 for download purpose. You can download the image from here. We have added a pdf version of the BOU SSC exam routine. PDF version is best for the downloading and keeping it in your phone memory. You can easily get the routine printed from the PDF version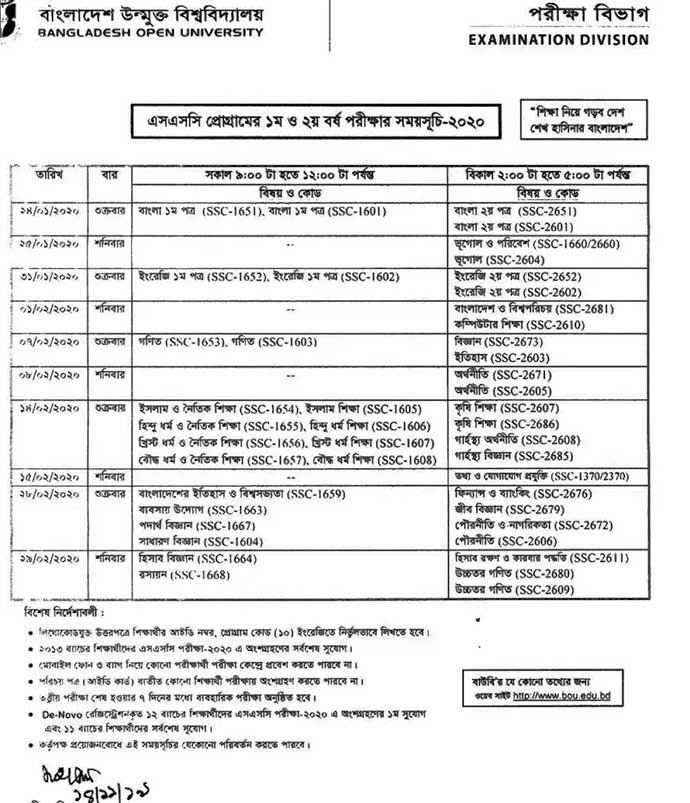 Bangladesh Open University SSC Exam 2020 instruction
Bangladesh Open University BOU has already published some special instruction for their SSC candidates. According to their circular, we have described it here.
Students have to take part in the examination on the due date
Students have to write the ID number and Program Code correctly
Mobile phone and Bags are prohibited in the exam hall
Candidates have to bring ID card
After the written exam, the practical exam will be taken
It is the last chance of candidates from 2013 batch
BOU SSC Examination Results
Bangladesh Open University Publishes SSC examination result within the two months of completing the examination. We will provide the BOU SSC Result 2020 here. If you are looking for the BOU SSC Examination result keep in touch with us.
BOU SSC Exam FAQ
When will BOU SSC Exam 2020 start?

BOU SSC Exam will start on January 24, 2020

What is the timing of the BOU Exam?

Bangladesh Open University takes the exam on Friday and Saturday

What is the Shift time of BOU Exam?

The Morning shift time is 9 AM – 12 PM and Day Shift time is 2 Pm to 5 Pm

When does BOU SSC Exam Ends?

BOU SSC Exam 2020 will ends on February 29, 2020
That's all about the BOU SSC Routine 2020. If you are looking for more information, let us know through comments. We are ready to assist you.
Was this article helpful?